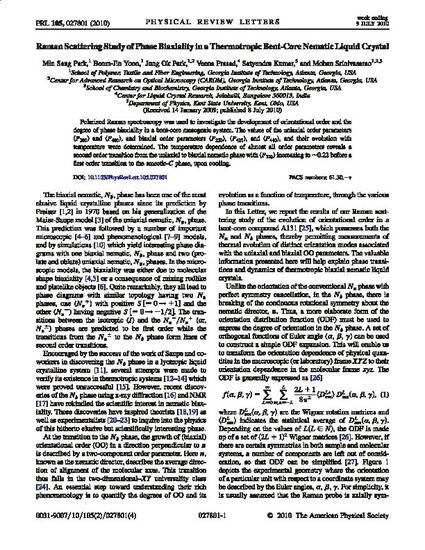 Article
Raman Scattering Study of Phase Biaxiality in a Thermotropic Bent-Core Nematic Liquid Crystal
Physical Review Letters
Publication Date
7-8-2010
DOI
10.1103/PhysRevLett.105.027801
Keywords
Order Parameters,
Viscous Properties,
Molecular Theory,
Transitions,
Particles,
Mixtures,
Fluid
Abstract
Polarized Raman spectroscopy was used to investigate the development of orientational order and the degree of phase biaxiality in a bent-core mesogenic system. The values of the uniaxial order parameters ⟨P200⟩ and ⟨P400⟩, and biaxial order parameters ⟨P220⟩, ⟨P420⟩, and ⟨P440⟩, and their evolution with temperature were determined. The temperature dependence of almost all order parameters reveals a second order transition from the uniaxial to biaxial nematic phase with ⟨P220⟩ increasing to ∼0.22 before a first order transition to the smectic-C phase, upon cooling.
Citation Information
Min Sang Park, Beom-Kin Yoon, Jung Ok Park, Veena Prasad, et al.. "Raman Scattering Study of Phase Biaxiality in a Thermotropic Bent-Core Nematic Liquid Crystal"
Physical Review Letters
Vol. 105 Iss. 2 (2010)
Available at: http://works.bepress.com/satyendra_kumar/54/