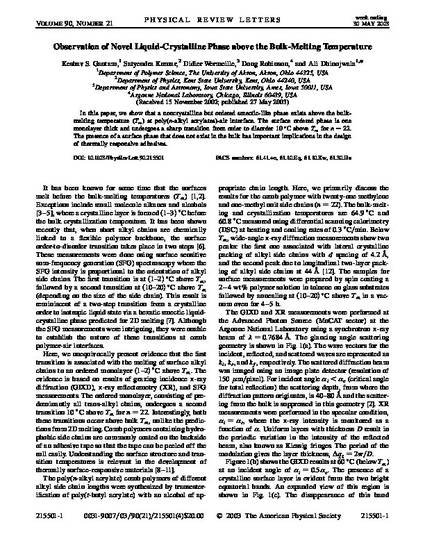 Article
Observation of Novel Liquid-Crystalline Phase Above the Bulk-Melting Temperature
Physical Review Letters
Publication Date
5-30-2003
DOI
10.1103/PhysRevLett.90.215501
Keywords
Chain Molecules,
Normal Alkanes,
Surface,
Diffraction,
Interfaces
Abstract
In this paper, we show that a noncrystalline but ordered smectic-like phase exists above the bulk-melting temperature (T-m) at poly(n-alkyl acrylates)-air interface. The surface ordered phase is one monolayer thick and undergoes a sharp transition from order to disorder 10degreesC above T-m for n=22. The presence of a surface phase that does not exist in the bulk has important implications in the design of thermally responsive adhesives.
Citation Information
Keshav S. Gautam, Satyendra Kumar, Didier Wermeille, Doug Robinson, et al.. "Observation of Novel Liquid-Crystalline Phase Above the Bulk-Melting Temperature"
Physical Review Letters
Vol. 90 Iss. 21 (2003)
Available at: http://works.bepress.com/satyendra_kumar/30/