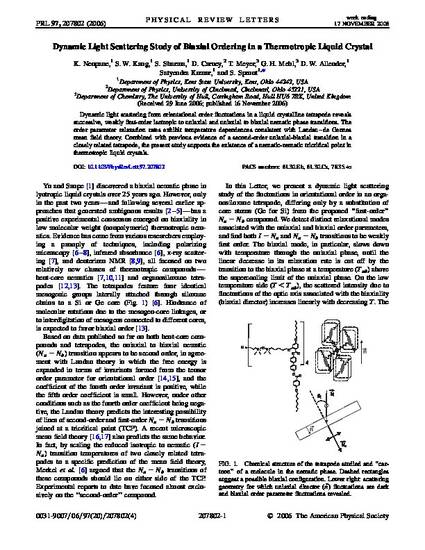 Article
Dynamic Light Scattering Study of Biaxial Ordering in a Thermotropic Liquid Crystal
Physical Review Letters
Publication Date
11-17-2006
DOI
10.1103/PhysRevLett.97.207802
Keywords
Core Azo Compounds,
Carbosilazane Cores,
Phase Transition,
Isotropic Phase,
Nematic Phase
Abstract
Dynamic light scattering from orientational order fluctuations in a liquid crystalline tetrapode reveals successive, weakly first-order isotropic to uniaxial and uniaxial to biaxial nematic phase transitions. The order parameter relaxation rates exhibit temperature dependences consistent with Landau–de Gennes mean field theory. Combined with previous evidence of a second-order uniaxial-biaxial transition in a closely related tetrapode, the present study supports the existence of a nematic-nematic tricritical point in thermotropic liquid crystals.
Citation Information
K. Neupane, S. W Kang, D. Carney, T. Meyer, et al.. "Dynamic Light Scattering Study of Biaxial Ordering in a Thermotropic Liquid Crystal"
Physical Review Letters
Vol. 97 Iss. 20 (2006)
Available at: http://works.bepress.com/satyendra_kumar/29/