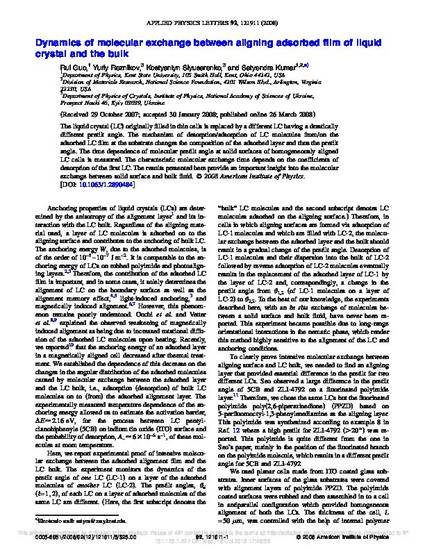 Article
Dynamics of Molecular Exchange Between Aligning Adsorbed Film of Liquid Crystal and the Bulk
Applied Physics Letters
Publication Date
3-24-2008
Keywords
Easy Orientation Axis,
Pvcn F Surface,
Magnetic Field,
Polyimide Surfaces,
Anchoring Energy,
Pretilt Angle,
Alignment
Abstract
The liquid crystal (LC) originally filled in thin cells is replaced by a different LC having a drastically different pretilt angle. The mechanism of desorption/adsorption of LC molecules from/on the adsorbed LC film at the substrate changes the composition of the adsorbed layer and thus the pretilt angle. The time dependence of molecular pretilt angle at solid surfaces of homogeneously aligned LC cells is measured. The characteristic molecular exchange time depends on the coefficients of desorption of the first LC. The results presented here provide an important insight into the molecular exchange between solid surface and bulk fluid. (C) 2008 American Institute of Physics.
Citation Information
Rui Guo, Yuriy Reznikov, Kostyantyn Slyusarenko and Satyendra Kumar. "Dynamics of Molecular Exchange Between Aligning Adsorbed Film of Liquid Crystal and the Bulk"
Applied Physics Letters
Vol. 92 Iss. 12 (2008)
Available at: http://works.bepress.com/satyendra_kumar/10/