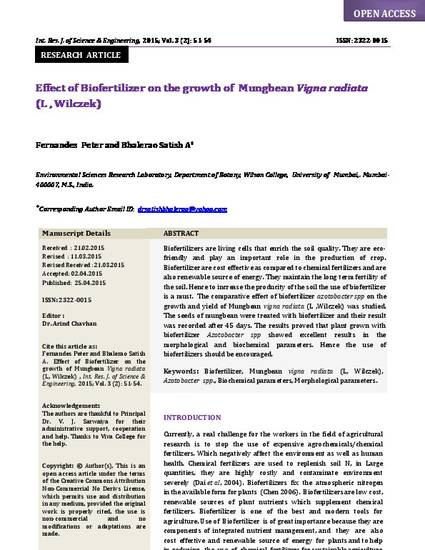 Article
3. Fenandes & Bhalerao.pdf
Int. Res. J. of Science & Engineering (2015)
Abstract
Biofertilizers are living cells that enrich the soil quality. They are eco-friendly and play an important role in the production of crop. Biofertilizer are cost effective as compared to chemical fertilizers and are also renewable source of energy. They maintain the long term fertility of the soil. Hence to increase the producity of the soil the use of biofertilizer is a must. The comparative effect of biofertilizer azotobacter spp on the growth and yield of Mungbean vigna radiata (L ,Wilczek) was studied. The seeds of mungbean were treated with biofertilizer and their result was recorded after 45 days. The results proved that plant grown with biofertilizer Azotobacter spp showed excellent results in the morphological and biochemical parameters. Hence the use of biofertilizers should be encouraged.
Keywords
Biofertilizer,
Mungbean vigna radiata (L,
Wilczek),
Azotobacter spp.,
Biochemical parameters,
Morphological parameters.
Publication Date
Summer April 25, 2015
Citation Information
Satish Bhalerao. "3. Fenandes & Bhalerao.pdf"
Int. Res. J. of Science & Engineering
Vol. 3 Iss. 2 (2015) p. 51 - 54 ISSN: ISSN: 2322-0015
Available at: http://works.bepress.com/satish-bhalerao/4/