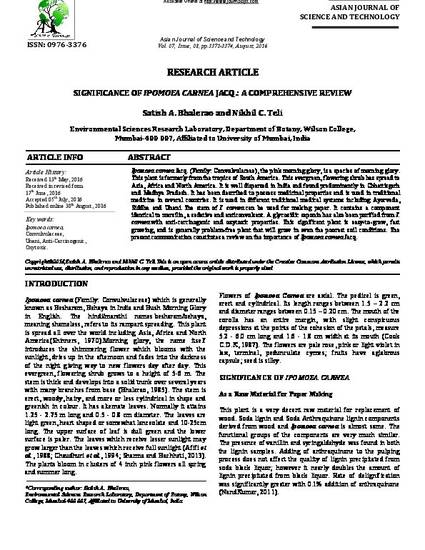 Article
3222 (1).pdf
Asian Journal of Science and Technology (2016)
Abstract
Ipomoea carnea Jacq. (Family: Convulvulaceae), the pink morning glory, is a species of morning glory.
This plant is formerly from the tropics of South America. This evergreen, flowering shrub has spread to
Asia, Africa and North America. It is well dispersed in India and found predominantly in Chhattisgarh
and Madhya Pradesh. It has been described to possess medicinal properties and is used in traditional
medicine in several countries. It is used in different traditional medical systems including Ayurveda,
Siddha and Unani. The stem of I. carnea can be used for making paper. It contains a component
identical to marsilin, a sedative and anticonvulsant. A glycosidic saponin has also been purified from I.
carnea with anti-carcinogenic and oxytoxic properties. This significant plant is easy-to-grow, fast
growing, and is generally problem-free plant that will grow in even the poorest soil conditions. The
present communication constitutes a review on the importance of Ipomoea carnea Jacq.
Keywords
Ipomoea carnea,
Convulvulaceae,
Unani,
Anti-Carcinogenic,
Oxytoxic.
Publication Date
Spring August 30, 2016
Citation Information
Satish Bhalerao. "3222 (1).pdf"
Asian Journal of Science and Technology
Vol. 7 Iss. 8 (2016) p. 3371 - 3374 ISSN: ISSN: 0976-3376
Available at: http://works.bepress.com/satish-bhalerao/23/