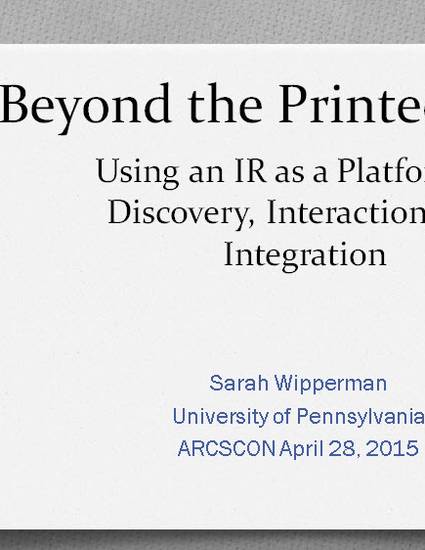 Presentation
Beyond the Printed Page: Using an IR as a Platform for Discovery, Interaction, and Integration
ARCSCON (2015)
Abstract
This presentation covers some of the innovative ways members of the Penn community have been using their institutional repository, ScholarlyCommons (
http://repository.upenn.edu
), to both present and preserve their research.  These IR projects provide a more user-based approach to archiving materials than is used in more traditional deposits by allowing users to interact with 3D modules, videos, images, and other embedded materials and by providing online supplements to printed volumes. The materials are additionally presented in a way that encourages further exploration and discovery of information. These projects show how an IR can both complement traditional publishing yet also provide a stand-alone publishing platform in itself.
This topic demonstrates a few ways in which institutional repositories can be used by the research community to present, preserve, and disseminate their work. It shows how IRs can also be integrated with traditional publishing methods - how online and print can work together to encourage further discovery of research across both mediums – and how they can provide a valuable user experience while also ensuring that materials are preserved and persistent.
Keywords
institutional repository,
publishing,
digital publishing,
archiving
Publication Date
April 28, 2015
Citation Information
Wipperman, S. (2015, April).
Beyond the printed page: Using an IR as a platform for discovery, interaction, and integration
. Presented at the Advancing Research Communication and Scholarship Conference (ARCSCON), Philadelphia, PA, USA. Available at: http://works.bepress.com/sarah_wipperman/7/