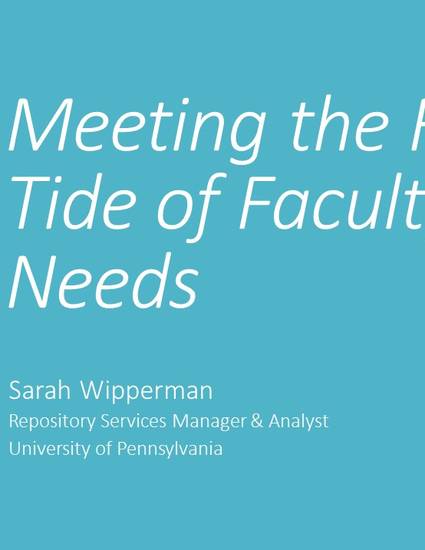 Presentation
Meeting the Rising Tide of Faculty Needs
SPARC MORE (2016)
Abstract
Digital scholarship is changing dramatically for faculty, and libraries are understandably struggling to keep their heads above water as faculty's needs evolve. Faculty have lots to organize and share, from datasets to images, audio, technical reports, course materials, syllabi, and more. How can the library move from being out at sea to riding this new wave of digital scholarship?
It's not easy to strike that perfect balance between having a dry repository and getting swept out in the riptide; this breakfast will provide you with the tools to catch this wave.
First, Sarah Wipperman, Repository Services Manager at University of Pennsylvania will provide a case study of how her library has prioritized her faculty's needs amidst a tidal wave of interest in library services. At Penn, the library has deftly moved beyond the "collection for collection's sake" concept of the IR to a new model that involves engaging with faculty in their research cycle to meet critical needs to manage a wide spectrum of scholarship, including 3D Dinosaur skulls, MOOCs, and Nanotechnology research materials.  
Next, Promita Chatterji, Senior Outreach Consultant at bepress will present a new survey instrument that can be used by workshop attendees to get a stronger understanding of faculty needs at their institution. This platform agnostic survey was piloted by 6 schools and generated over 500 responses. Promita will share the findings, some surprises, and how they point to a number of ways that libraries can identify key faculty needs at their institution.
The last third of this breakfast will be interactive.  Drawing upon the strategies discussed earlier in the morning, attendees will workshop their strategies for engaging faculty and develop a plan to create their own faculty needs assessment. 
Keywords
institutional repository,
open access,
project management
Publication Date
March 7, 2016
Citation Information
Wipperman, S. (2016, March).
Meeting the rising tide of faculty needs
. Presented at SPARC MORE, San Antonio, TX, USA. Available at: http://works.bepress.com/sarah_wipperman/5/
Creative Commons License
This work is licensed under a Creative Commons CC_BY-NC-SA International License.