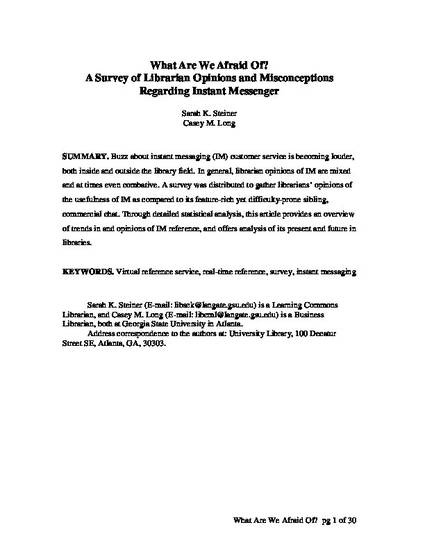 Article
What Are We Afraid Of? A Survey of Librarian Opinions and Misconceptions Regarding Instant Messenger.
University Library Faculty Publications
Publication Date
12-1-2006
Abstract
Buzz about instant messaging (IM) customer service is becoming louder, both inside and outside the library field. In general, librarian opinions of IM are mixed and at times even combative. A survey was distributed to gather librarians' opinions of the usefulness of IM as compared to its feature-rich yet difficulty-prone sibling, commercial chat. Through detailed statistical analysis, this article provides an overview of trends in and opinions of IM reference, and offers analysis of its present and future in libraries.
Citation Information
Sarah Steiner and Casey Long. "What Are We Afraid Of? A Survey of Librarian Opinions and Misconceptions Regarding Instant Messenger." (2006)
Available at: http://works.bepress.com/sarah_steiner/7/