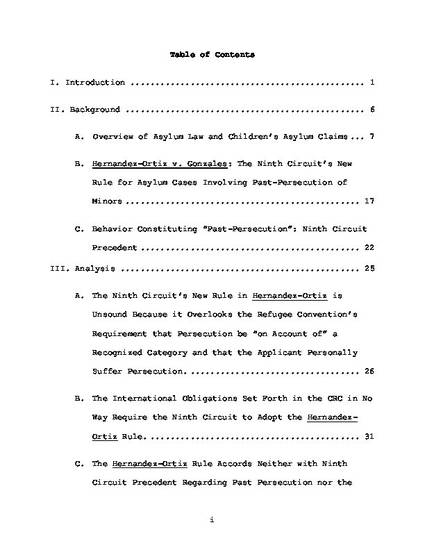 Unpublished Paper
Hernandez-Ortiz v. Gonzales: Creating Unsound Rules for Adjudicating Asylum Claims in the Ninth Circuit
ExpressO (2008)
Abstract
United States asylum law has developed out of several international agreements to which the United States is a party. More specifically, the United States has incorporated into its domestic legislation the asylum requirements set forth in the United Nations Convention Relating to the Status of Refugees ("Refugee Convention") and the United Nations Protocol Relating to the Status of Refugees ("Refugee Protocol"). The Refugee Convention accords refugee status to people who adequately demonstrate that they have been or will be persecuted on account of their race, religion, nationality, membership in a particular social group, or political opinion. However, over time new and varying asylum claims arise, which the Refugee Convention's language does not always explicitly address. These new asylum claims require new guidelines and laws to assist courts in their adjudication. A recent decision in the Ninth Circuit Court of Appeals, Hernandez-Ortiz v. Gonzales deals with one such claim involving child refugees. This Note argues that the new rule in Hernandez-Ortiz is unsound because it conflicts with the firmly-established definition of "refugee" in the Refugee Convention, is not required by the United Nations Convention on the Rights of the Child ("CRC"), is unsupported by the Department of Homeland Security's ("DHS") Child Asylum Guidelines, and is inconsistent with the Ninth Circuit's own precedent regarding persecution of children.
Keywords
children,
asylum law,
immigration law,
international law,
INA,
Refugee Convention
Publication Date
February 7, 2008
Citation Information
Sarah A Schroeder. "Hernandez-Ortiz v. Gonzales: Creating Unsound Rules for Adjudicating Asylum Claims in the Ninth Circuit"
ExpressO
(2008)
Available at: http://works.bepress.com/sarah_schroeder/1/