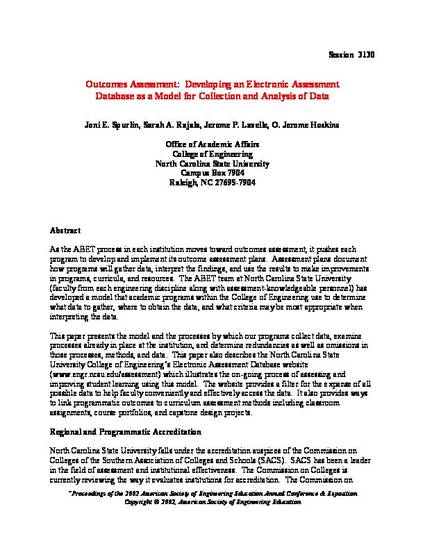 Presentation
Outcomes Assessment: Developing an Electronic Assessment Database as a Model for Collection and Analysis of Data
2002 ASEE Annual Conference and Exposition (2002)
Abstract
As the ABET process in each institution moves toward outcomes assessment, it pushes each program to develop and implement its outcome assessment plans. Assessment plans document how programs will gather data, interpret the findings, and use the results to make improvements in programs, curricula, and resources. The ABET team at North Carolina State University (faculty from each engineering discipline along with assessment-knowledgeable personnel) has developed a model that academic programs within the College of Engineering use to determine what data to gather, where to obtain the data, and what criteria may be most appropriate when interpreting the data. This paper presents the model and the processes by which our programs collect data, examine processes already in place at the institution, and determine redundancies as well as omissions in those processes, methods, and data. This paper also describes the North Carolina State University College of Engineering's Electronic Assessment Database website (www.engr.ncsu.edu/assessment) which illustrates the on-going process of assessing and improving student learning using this model. The website provides a filter for the expanse of all possible data to help faculty conveniently and effectively access the data. It also provides ways to link programmatic outcomes to curriculum assessment methods including classroom assignments, course portfolios, and capstone design projects.
Publication Date
June, 2002
Citation Information
Joni E. Spurlin, Sarah A. Rajala, Jerome P. Lavelle and O. Jerome Hoskins. "Outcomes Assessment: Developing an Electronic Assessment Database as a Model for Collection and Analysis of Data"
2002 ASEE Annual Conference and Exposition
(2002)
Available at: http://works.bepress.com/sarah_rajala/7/