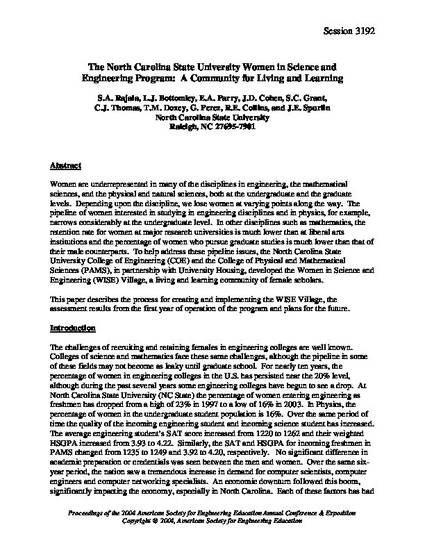 Presentation
The North Carolina State University Women in Science and Engineering Program: A Community for Living and Learning
2004 ASEE Annual Conference and Exposition (2004)
Abstract
Women are underrepresented in many of the disciplines in engineering, the mathematical sciences, and the physical and natural sciences, both at the undergraduate and the graduate levels. Depending upon the discipline, we lose women at varying points along the way. The pipeline of women interested in studying in engineering disciplines and in physics, for example, narrows considerably at the undergraduate level. In other disciplines such as mathematics, the retention rate for women at major research universities is much lower than at liberal arts institutions and the percentage of women who pursue graduate studies is much lower than that of their male counterparts. To help address these pipeline issues, the North Carolina State University College of Engineering (COE) and the College of Physical and Mathematical Sciences (PAMS), in partnership with University Housing, developed the Women in Science and Engineering (WISE) Village, a living and learning community of female scholars. This paper describes the process for creating and implementing the WISE Village, the assessment results from the first year of operation of the program and plans for the future.
Publication Date
June, 2004
Citation Information
Sarah A. Rajala, Laura J. Bottomley, E. A. Parry, J. D. Cohen, et al.. "The North Carolina State University Women in Science and Engineering Program: A Community for Living and Learning"
2004 ASEE Annual Conference and Exposition
(2004)
Available at: http://works.bepress.com/sarah_rajala/11/