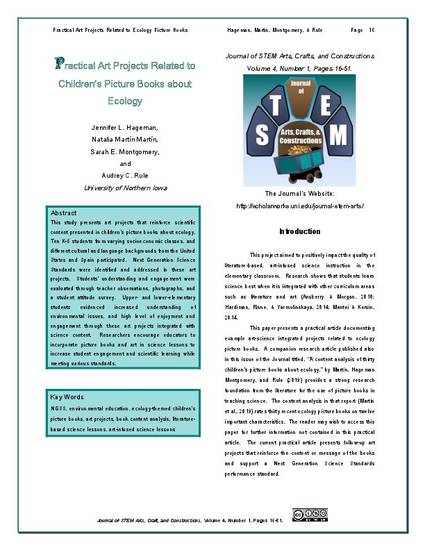 Article
Practical Art Projects Related to Children's Picture Books about Ecology
Journal of STEM Arts, Crafts, and Constructions
Abstract
This study presents art projects that reinforce scientific content presented in children's picture books about ecology. Ten K-6 students from varying socioeconomic classes, and different cultural and language backgrounds from the United States and Spain participated. Next Generation Science Standards were identified and addressed in these art projects. Students' understanding and engagement were evaluated through teacher observations, photographs, and a student attitude survey. Upper- and lower-elementary students evidenced increased understanding of environmental issues, and high level of enjoyment and engagement through these art projects integrated with science content. Researchers encourage educators to incorporate picture books and art in science lessons to increase student engagement and scientific learning while meeting various standards.
Citation Information
Hageman, J. L., Martín, N. M., Montgomery, S. E., & Rule, A. C. (2019). Practical art projects related to children's picture books about ecology. Journal of STEM Arts, Crafts, and Constructions, 4(1), 16-51.