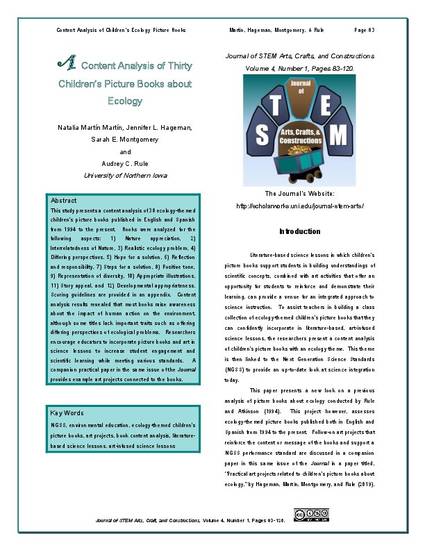 Article
A Content Analysis of Thirty Children's Picture Books about Ecology
Journal of STEM Arts, Crafts, and Constructions
Abstract
This study presents a content analysis of 30 ecology-themed children's picture books published in English and Spanish from 1994 to the present. Books were analyzed for the following aspects: 1) Nature appreciation, 2) Interrelatedness of Nature, 3) Realistic ecology problem, 4) Differing perspectives, 5) Hope for a solution, 6) Reflection and responsibility, 7) Steps for a solution, 8) Positive tone, 9) Representation of diversity, 10) Appropriate illustrations, 11) Story appeal, and 12) Developmental appropriateness. Scoring guidelines are provided in an appendix. Content analysis results revealed that most books raise awareness about the impact of human action on the environment, although some titles lack important traits such as offering differing perspectives of ecological problems. Researchers encourage educators to incorporate picture books and art in science lessons to increase student engagement and scientific learning while meeting various standards. A companion practical paper in the same issue of the Journal provides example art projects connected to the books.
Citation Information
Martín, N. M., Hageman, J. L., Montgomery, S. E., & Rule, A. C. (2019). A content analysis of thirty children's picture books about ecology. Journal of STEM Arts, Crafts, and Constructions, 4(1), 83-120.