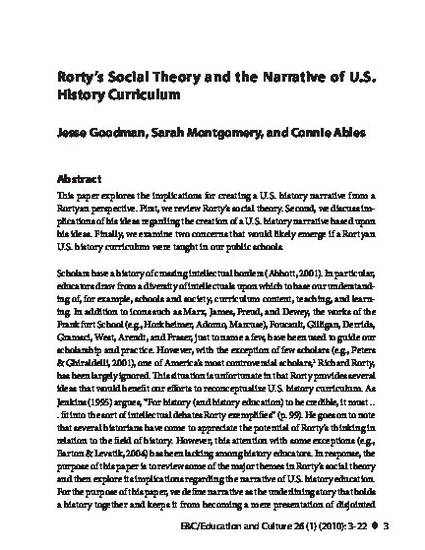 Article
Rorty's Social Theory and the Narrative of U.S. History Curriculum
Education and Culture
Abstract
This paper explores the implications for creating a U.S. history narrative from a Rortyan perspective. First, we review Rorty's social theory. Second, we discuss implications of his ideas regarding the creation of a U.S. history narrative based upon his ideas. Finally, we examine two concerns that would likely emerge if a Rortyan U.S. history curriculum was taught in our public schools.
Project Muse URL
http://muse.jhu.edu/journals/education_and_culture/v026/26.1.goodman.html
Citation Information
Jesse Goodman, Sarah Montgomery and Connie Ables. "Rorty's Social Theory and the Narrative of U.S. History Curriculum"
Available at: http://works.bepress.com/sarah_montgomery/1/