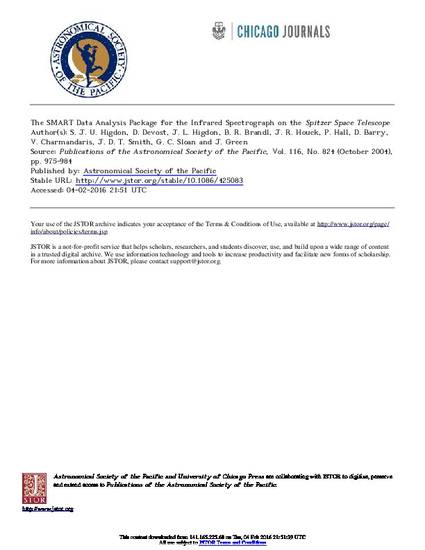 Article
The SMART Data Analysis Package for the Infrared Spectrograph on the Spitzer Space Telescope
Astronomical Society of the Pacific (2004)
Abstract
SMART is a software package written in IDL to reduce and analyze Spitzer data from all four modules of the Infrared Spectrograph, including the peak-up arrays. The software is designed to make full use of the ancillary files generated in the Spitzer Science Center pipeline so that it can either remove or flag artifacts and corrupted data and maximize the signal-to-noise ratio in the extraction routines. It can be run in both interactive and batch modes. The software and users guide will be available for public release in 2004 December. We briefly describe some of the main features of SMART, including visualization tools for assessing data quality, basic arithmetic operations for either two-dimensional images or one-dimensional spectra, extraction of both point and extended sources, and a suite of spectral analysis tools.
Keywords
SMART,
IDL,
Spitzer,
Infrared Spectrograph,
Spitzer Science Center,
Spectroscopy
Publication Date
October, 2004
Citation Information
Sarah J.U. Higdon, D. Devost, J. L. Higdon, B. R. Brandl, et al.. "The SMART Data Analysis Package for the Infrared Spectrograph on the Spitzer Space Telescope"
Astronomical Society of the Pacific
Vol. 116 Iss. 824 (2004) p. 975 - 984
Available at: http://works.bepress.com/sarah_higdon/26/