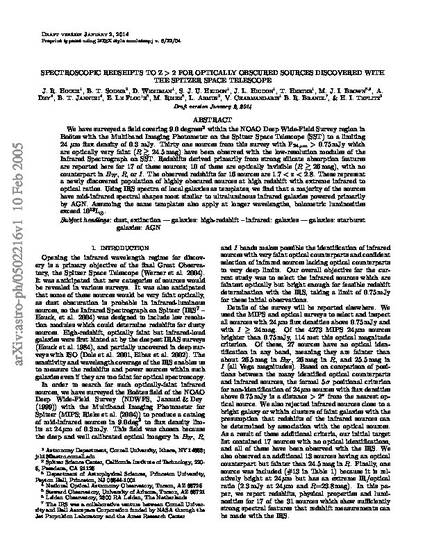 Article
Spectroscopic Redshifts to z > 2 for Optically Obscured Sources Discovered with the Spitzer Space Telescope
The Astrophysical Journal (2005)
Abstract
We have surveyed a field covering 9.0 deg
2
 within the NOAO Deep Wide-Field Survey region in Bootes with the Multiband Imaging Photometer on the 
Spitzer Space Telescope
 (
SST
) to a limiting 24 μm flux density of 0.3 mJy. Thirty-one sources from this survey with 
F
24 μm
 > 0.75 mJy that are optically very faint (
R
 24.5 mag) have been observed with the low-resolution modules of the Infrared Spectrograph on 
SST
 (IRS). Redshifts derived primarily from strong silicate absorption features are reported here for 17 of these sources; 10 of these are optically invisible (
R
 26 mag), with no counterpart in 
B
W
, 
R
, or 
I
. The observed redshifts for 16 sources are 1.7 < 
z
 < 2.8. These represent a newly discovered population of highly obscured sources at high redshift with extreme infrared-to-optical ratios. Using IRS spectra of local galaxies as templates, we find that a majority of the sources have mid-infrared spectral shapes most similar to ultraluminous infrared galaxies powered primarily by active galactic nuclei. Assuming that the same templates also apply at longer wavelengths, bolometric luminosities exceed 10
13
L
☉
.
Keywords
Dust,
Extinction,
Galaxies,
Active,
High-redshift,
Starburst,
Infrared
Publication Date
April 1, 2005
Citation Information
J. R. Houck, B. T. Soifer, D. Weedman, Sarah J.U. Higdon, et al.. "Spectroscopic Redshifts to z > 2 for Optically Obscured Sources Discovered with the Spitzer Space Telescope"
The Astrophysical Journal
Vol. 622 Iss. 2 (2005) p. 105 - 108
Available at: http://works.bepress.com/sarah_higdon/21/