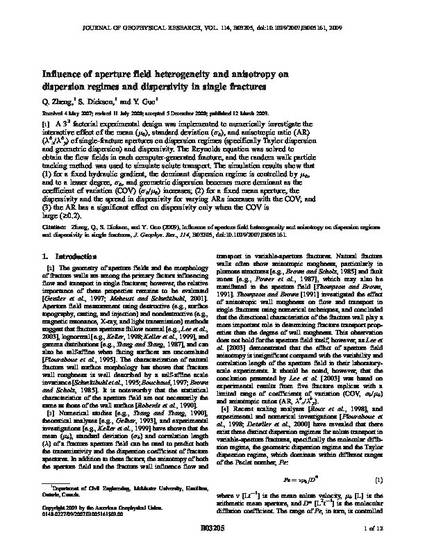 Article
Influence of aperture field heterogeneity and anisotropy on dispersion regimes and dispersivity in single fractures
Journal of Geophysical Research - Solid Earth (2009)
Abstract
A 33 factorial experimental design was implemented to numerically investigate the interactive effect of the mean (μ b ), standard deviation (σ b ), and anisotropic ratio (AR) (λ b x /λ b y ) of single-fracture apertures on dispersion regimes (specifically Taylor dispersion and geometric dispersion) and dispersivity. The Reynolds equation was solved to obtain the flow fields in each computer-generated fracture, and the random walk particle tracking method was used to simulate solute transport. The simulation results show that (1) for a fixed hydraulic gradient, the dominant dispersion regime is controlled by μ b , and to a lesser degree, σ b , and geometric dispersion becomes more dominant as the coefficient of variation (COV) (σ b /μ b ) increases; (2) for a fixed mean aperture, the dispersivity and the spread in dispersivity for varying ARs increases with the COV; and (3) the AR has a significant effect on dispersivity only when the COV is large (0.2).
Citation Information
Qinghuai Zheng, Sarah E Dickson and Yiping Guo. "Influence of aperture field heterogeneity and anisotropy on dispersion regimes and dispersivity in single fractures"
Journal of Geophysical Research - Solid Earth
Vol. 114 Iss. B03205 (2009)
Available at: http://works.bepress.com/sarah_dickson/5/