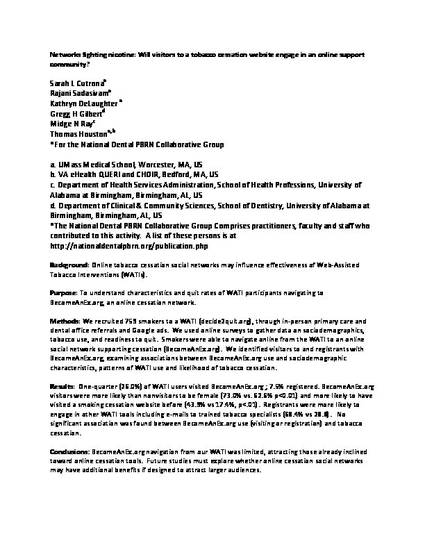 Presentation
Networks Fighting Nicotine: Will Visitors to a Tobacco Cessation Website Engage in an Online Support Community?
UMass Center for Clinical and Translational Science Research Retreat
Start Date
20-5-2014 12:30 PM
Description
Background: Online tobacco cessation social networks may influence effectiveness of Web-Assisted Tobacco Interventions (WATIs). Purpose: To understand characteristics and quit rates of WATI participants navigating to BecomeAnEx.org, an online cessation network. Methods: We recruited 759 smokers to a WATI (decide2quit.org), through in-person primary care and dental office referrals and Google ads. We used online surveys to gather data on sociodemographics, tobacco use, and readiness to quit. Smokers were able to navigate online from the WATI to an online social network supporting cessation (BecomeAnEx.org). We identified visitors to and registrants with BecomeAnEx.org, examining associations between BecomeAnEx.org use and sociodemographic characteristics, patterns of WATI use and likelihood of tobacco cessation. Results: One-quarter (26.0%) of WATI users visited BecomeAnEx.org ; 7.5% registered. BecomeAnEx.org visitors were more likely than nonvisitors to be female (73.0% vs. 62.6% p<0.01) and more likely to have visited a smoking cessation website before (43.9% vs 17.4%, p<.01). Registrants were more likely to engage in other WATI tools including e-mails to trained tobacco specialists (68.4% vs 28.8). No significant association was found between BecomeAnEx.org use (visiting or registration) and tobacco cessation. Conclusions: BecomeAnEx.org navigation from our WATI was limited, attracting those already inclined toward online cessation tools. Future studies must explore whether online cessation social networks may have additional benefits if designed to attract larger audiences.
Creative Commons License
Creative Commons Attribution-Noncommercial-Share Alike 3.0
Citation Information
Sarah L. Cutrona, Rajani S. Sadasivam, Kathryn Delaughter, Gregg H. Gilbert, et al.. "Networks Fighting Nicotine: Will Visitors to a Tobacco Cessation Website Engage in an Online Support Community?" (2014)
Available at: http://works.bepress.com/sarah_cutrona/35/