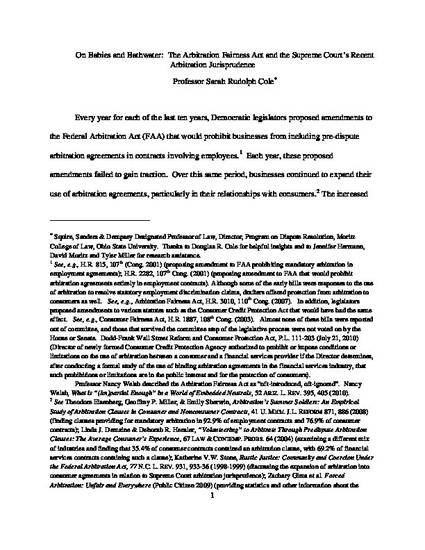 Unpublished Paper
On Babies and Bathwater: The Arbitration Fairness Act and the Supreme Court's Recent Arbitration Jurisprudence
ExpressO (2011)
Abstract
Abstract: On Babies and Bathwater: The Arbitration Fairness Act and the Supreme Court's Recent Arbitration Jurisprudence, Professor Sarah Rudolph Cole, Moritz College of Law, Ohio State University
This article addresses an important but widely overlooked issue that has plagued arbitration for many years – the disconnect between the judicial embrace of arbitration agreements between consumers (or employees) and businesses and the negative public and legislative attitude toward such agreements. For many years, Democratic legislators attempted to pass a law banning the use of pre-dispute arbitration agreements in employment disputes. In 2009, the legislators renamed this legislation and expanded its reach. Under the proposed Arbitration Fairness Act, all pre-dispute arbitration agreements in employment, consumer and franchise agreements would be invalidated. At the same time, the Supreme Court repeatedly has enforced arbitration agreements of all types and in a variety of settings. While the Supreme Court's rulings do much to reinforce the value and importance of arbitration as a dispute resolution mechanism, the rulings also ignore a growing problem in consumer arbitration - -the inability of consumers to band together in either class arbitration or class actions in court, to vindicate low value claims. It is this problem, rather than the issue of the viability of consumer arbitration agreements in general, that deserves legislative attention.
Given that empirical research continues to show that consumer arbitration benefits both consumers and businesses, rather than render consumer arbitration impermissible entirely, Congress would do well to target more directly the problem of the consumer with a low value claim,. Consumers with these types of claims cannot afford to arbitrate unless they are able to band together in a class process. Over the last several years, courts disagreed about whether businesses could ban class arbitrations or class actions in court through the implementation of consumer arbitration agreements. A recent Supreme Court decision, Stolt-Nielsen S.A. v. AnimalFeeds Int'l Corp., 130 S.Ct. 1758 (2010), addressed this issue, ruling that an arbitral panel could not order class arbitration when the parties' arbitration agreement did not expressly authorize the process. If extended to the consumer context (which it is likely to be), this ruling effectively precludes consumers with low value claims from vindicating their rights because businesses typically do not explicitly authorize class arbitration in the arbitration agreements they use with customers.
This article reviews the current state of the law, the Arbitration Fairness Act, and the empirical research on consumer arbitration to assess the problem raised in Stolt-Nielsen and other recent Court rulings. Based on that analysis, the article proposes legislation that would address the major problem in consumer arbitration – the inability of consumers to pursue class remedies.
Keywords
arbitration,
legislation,
consumer law
Publication Date
February 18, 2011
Citation Information
Sarah Cole. "On Babies and Bathwater: The Arbitration Fairness Act and the Supreme Court's Recent Arbitration Jurisprudence"
ExpressO
(2011)
Available at: http://works.bepress.com/sarah_cole/1/