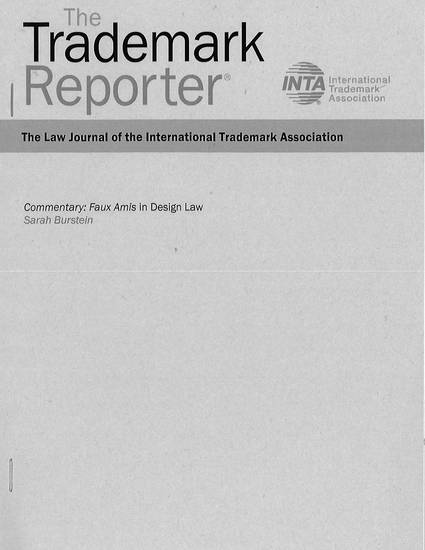 Article
Commentary: Faux Amis in Design Law
The Trademark Reporter (2015)
Abstract
When I was learning French, I was often warned to beware of faux amis—words that "appear the same in French and English but that can have problematically different meanings."1 There are also faux amis in U.S. design law—words that appear the same in the key legal regimes (design patent, trademark, and copyright) but which can have problematically different meanings. Consider, for example, the words "functional" and "ornamental." These terms are used in all three regimes to describe limits on protectable subject matter.2 But they have different meanings in each.3 And this definitional disconnect is causing real problems, especially at the intersection of design patent and trademark law. This commentary will begin to explore the problem of faux amis in design law by focusing on that intersection. It will first demonstrate that "functional" and "ornamental" do not mean the same things in design patent law that they do in trademark law. It will then explain why this is a problem and will propose a solution.
Publication Date
November, 2015
Citation Information
Sarah Burstein. "Commentary: Faux Amis in Design Law"
The Trademark Reporter
Vol. 105 Iss. 6 (2015) p. 1455
Available at: http://works.bepress.com/sarah_burstein/36/