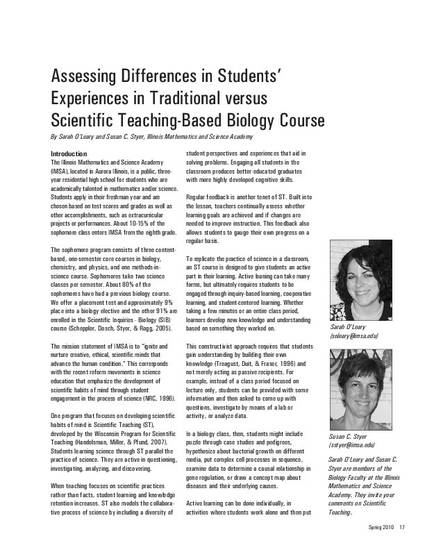 Article
Assessing Differences in Students' Experiences in Traditional versus Scientific Teaching-Based Biology Course
Faculty Publications & Research
Publication Date
4-1-2010
Abstract
Introduction: The Illinois Mathematics and Science Academy (IMSA), located in Aurora Illinois, is a public, three- year residential high school for students who are academically talented in mathematics and/or science. Students apply in their freshman year and are chosen based on test scores and grades as well as other accomplishments, such as extracurricular projects or performances. About 10-15% of the sophomore class enters IMSA from the eighth grade. The sophomore program consists of three content- based, one-semester core courses in biology, chemistry, and physics, and one methods-in- science course. Sophomores take two science classes per semester. About 80% of the sophomores have had a previous biology course. We offer a placement test and approximately 9% place into a biology elective and the other 91% are enrolled in the Scientific Inquiries - Biology (SIB) course (Scheppler, Dosch, Styer, & Rogg, 2005).
Citation Information
O'Leary, S., & Styer, S. (2010). Assessing differences in students' experiences in traditional versus scientific teaching-based biology course.
NCSSSMST Journal
,
15
(2), 17-20. Retrieved from http://digitalcommons.imsa.edu/sci_pr/3/