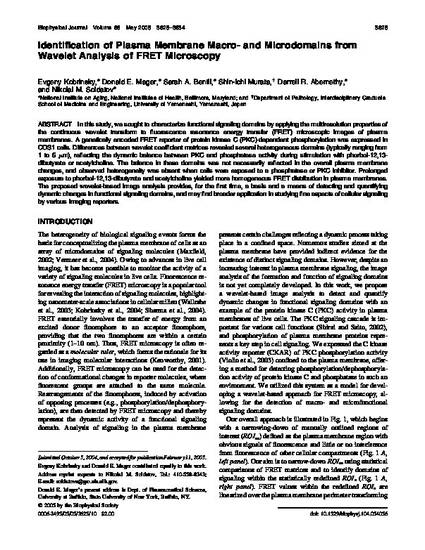 Article
Identification of Plasma Membrane Macro- and Microdomains from Wavelet Analysis of FRET Microscopy
Biophysical Journal (2005)
Abstract
In this study, we sought to characterize functional signaling domains by applying the multiresolution properties of the continuous wavelet transform to fluorescence resonance energy transfer (FRET) microscopic images of plasma membranes. A genetically encoded FRET reporter of protein kinase C (PKC)-dependent phosphorylation was expressed in COS1 cells. Differences between wavelet coefficient matrices revealed several heterogeneous domains (typically ranging from 1 to 5 
μ
m), reflecting the dynamic balance between PKC and phosphatase activity during stimulation with phorbol-12,13-dibutyrate or acetylcholine. The balance in these domains was not necessarily reflected in the overall plasma membrane changes, and observed heterogeneity was absent when cells were exposed to a phosphatase or PKC inhibitor. Prolonged exposure to phorbol-12,13-dibutyrate and acetylcholine yielded more homogeneous FRET distribution in plasma membranes. The proposed wavelet-based image analysis provides, for the first time, a basis and a means of detecting and quantifying dynamic changes in functional signaling domains, and may find broader application in studying fine aspects of cellular signaling by various imaging reporters.
Publication Date
May, 2005
DOI
10.1529/biophysj.104.054056
Citation Information
Evgeny Kobrinsky, Donald E. Mager, Sarah A. Bentil, Shin-ichi Murata, et al.. "Identification of Plasma Membrane Macro- and Microdomains from Wavelet Analysis of FRET Microscopy"
Biophysical Journal
Vol. 88 Iss. 5 (2005) p. 3625 - 3634
Available at: http://works.bepress.com/sarah-bentil/2/