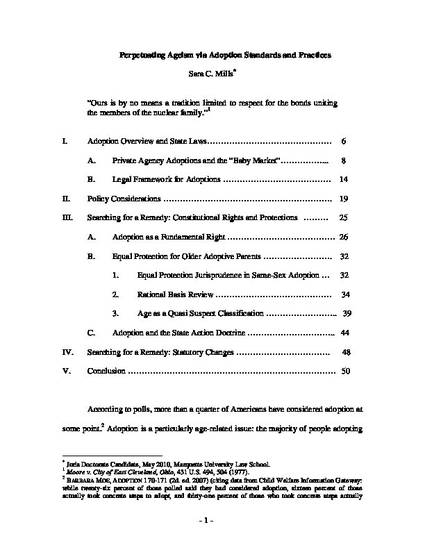 Unpublished Paper
Perpetuating Ageism via Adoption Standards and Practices
ExpressO (2010)
Abstract
More than a quarter of Americans consider adoption at some point in their lives. During the adoption process, courts strive to promote and foster the children's best interests, but this often involves discriminatory decisions that deprive older adoptive parents of the same opportunities as younger adoptive parents. Discrimination in adoption proceedings is nothing new, and legislators, courts, and scholars have explored how it impacts minorities, same-sex couples, single parents, and divorcees. However, age discrimination in adoption also exists, and courts condone it by approving placements that are dictated by private agencies' discriminatory ideologies. This article thus provides the first systematic examination of the issue of age discrimination in adoption, and it is the first to propose both constitutional and statutory remedies to counter the problem. For example, the justifications for age discrimination in adoption are no longer supported by empirical evidence or societal realities. Therefore, this article advocates for a change in the legal framework addressing adoption, including a consideration of adoption as a fundamental right under the Due Process Clause and a quasi-suspect classification designation for older Americans. Ultimately, when an older petitioner is denied the right to adopt, the agency, the court, and, fundamentally, society are implicitly rejecting the worth and dignity of older individuals and impermissibly discriminating based on ageist stereotypes. The article concludes with statutory and constitutional suggestions to reform conventional practice, which is detrimental to both adoptive parents and children.
Keywords
age discrimination,
adoption,
equal protection
Publication Date
March 12, 2010
Citation Information
Sara C Mills. "Perpetuating Ageism via Adoption Standards and Practices"
ExpressO
(2010)
Available at: http://works.bepress.com/sara_mills/1/