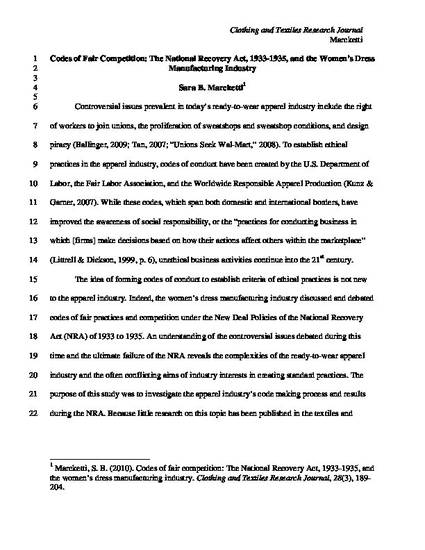 Article
Codes of Fair Competition: The National Recovery Act, 1933-1935, and the Women's Dress Manufacturing Industry
Clothing and Textiles Research Journal
Publication Date
7-1-2010
DOI
10.1177/0887302X10371674
Abstract
Controversial issues prevalent in today's ready-to-wear apparel industry include the right of workers to join unions, the proliferation of sweatshops and sweatshop conditions, and design piracy. The idea of forming codes of conduct to establish criteria of ethical business practices is not new to the apparel industry. Indeed, the women's dress manufacturing industry discussed and debated codes of fair competition under the New Deal Policies of the National Recovery Act (NRA) of 1933 to 1935. Primary sources for this study included governmental hearings in the establishment of the NRA Dress Code, The New York Times, Women's Wear Daily, and the Journal of the Patent Office Society. The history of the NRA codes implemented in the U.S. women's ready-to-wear apparel industry provides an important case study highlighting the difficulties and complexities of creating and achieving industry-wide standard practices through self-regulation. The failure of the NRA demonstrates that even with the joint cooperation of industry, labor, and consumer groups and the backing of the force of law, codes of fair competition proved impossible to enforce.
File Format
application/pdf
Citation Information
Sara B. Marcketti. "Codes of Fair Competition: The National Recovery Act, 1933-1935, and the Women's Dress Manufacturing Industry"
Clothing and Textiles Research Journal
Vol. 28 Iss. 3 (2010) p. 189 - 204
Available at: http://works.bepress.com/sara_marcketti/7/