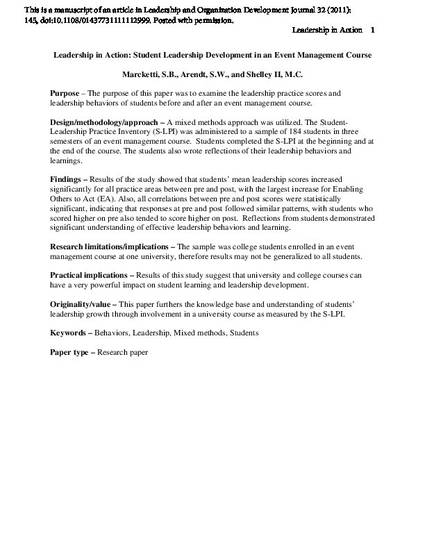 Article
Leadership in Action: Student Leadership Development in an Event Management Course
Leadership and Organization Development Journal
Publication Date
1-1-2011
DOI
10.1108/01437731111112999
Abstract
The purpose of this paper was to examine the leadership practice scores and leadership behaviors of students before and after an event management course. A mixed methods approach was utilized. The Student- Leadership Practice Inventory (S-LPI) was administered to a sample of 184 students in three semesters of an event management course. Students completed the S-LPI at the beginning and at the end of the course. The students also wrote reflections of their leadership behaviors and learnings. Results of the study showed that students' mean leadership scores increased significantly for all practice areas between pre and post, with the largest increase for Enabling Others to Act (EA). Also, all correlations between pre and post scores were statistically significant, indicating that responses at pre and post followed similar patterns, with students who scored higher on pre also tended to score higher on post. Reflections from students demonstrated significant understanding of effective leadership behaviors and learning. The sample was college students enrolled in an event management course at one university, therefore results may not be generalized to all students. Results of this study suggest that university and college courses can have a very powerful impact on student learning and leadership development. This paper furthers the knowledge base and understanding of students' leadership growth through involvement in a university course as measured by the S-LPI.
Copyright Owner
S.B. Marcketti, et al
File Format
application/pdf
Citation Information
Sara B. Marcketti, Susan W. Arendt and Mack C. Shelley. "Leadership in Action: Student Leadership Development in an Event Management Course"
Leadership and Organization Development Journal
Vol. 32 Iss. 2 (2011) p. 170 - 189
Available at: http://works.bepress.com/sara_marcketti/50/