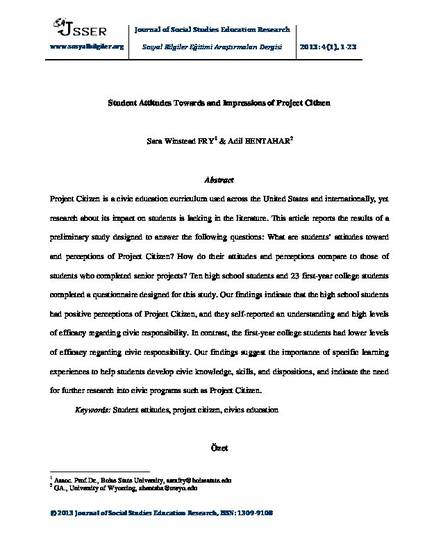 Article
Student Attitudes Towards and Impressions of Project Citizen
Journal of Social Studies Education Research
Publication Date
5-1-2013
Abstract
Project Citizen is a civic education curriculum used across the United States and internationally, yet research about its impact on students is lacking in the literature. This article reports the results of a preliminary study designed to answer the following questions: What are students' attitudes toward and perceptions of Project Citizen? How do their attitudes and perceptions compare to those of students who completed senior projects? Ten high school students and 23 first-year college students completed a questionnaire designed for this study. Our findings indicate that the high school students had positive perceptions of Project Citizen, and they self-reported an understanding and high levels of efficacy regarding civic responsibility. In contrast, the first-year college students had lower levels of efficacy regarding civic responsibility. Our findings suggest the importance of specific learning experiences to help students develop civic knowledge, skills, and dispositions, and indicate the need for further research into civic programs such as Project Citizen.
Copyright Statement
This document was originally published by Association for Social Studies Educators (ASSE) in Journal of Social Studies Education Research. This work is provided under a Creative Commons Attribution License 3.0. Details regarding the use of this work can be found at: http://creativecommons.org/licenses/by/3.0/.
Citation Information
Sara Winstead Fry and Adil Bentahar. "Student Attitudes Towards and Impressions of Project Citizen"
Journal of Social Studies Education Research
(2013)
Available at: http://works.bepress.com/sara_fry/22/