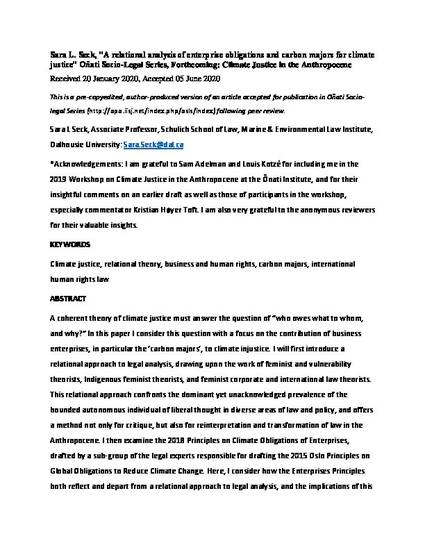 Article
A relational analysis of enterprise obligations and carbon majors for climate justice
Articles, Book Chapters, & Popular Press
Publication Date
1-1-2020
Keywords
climate justice,
relational theory,
business and human rights,
carbon majors,
international human rights law
Abstract
A coherent theory of climate justice must answer the question of "who owes what to whom, and why?" In this paper I consider this question with a focus on the contribution of business enterprises, in particular the 'carbon majors', to climate injustice. I will first introduce a relational approach to legal analysis, drawing upon the work of feminist and vulnerability theorists, Indigenous feminist theorists, and feminist corporate and international law theorists. This relational approach confronts the dominant yet unacknowledged prevalence of the bounded autonomous individual of liberal thought in diverse areas of law and policy, and offers a method not only for critique, but also for reinterpretation and transformation of law in the Anthropocene. I then examine the 2018 Principles on Climate Obligations of Enterprises, drafted by a sub-group of the legal experts responsible for drafting the 2015 Oslo Principles on Global Obligations to Reduce Climate Change. Here, I consider how the Enterprises Principles both reflect and depart from a relational approach to legal analysis, and the implications of this for conceptualizing the human rights responsibilities of carbon majors for climate justice. In conclusion, I argue that a coherent theory of 'who owes what to whom and why' in the Anthropocene is dependent upon relational insights which enable us to tell old stories in new ways, and so reveal the interconnectedness and interdependence of all beings, while accounting for power and difference.
Citation Information
Sara L. Seck, "A relational analysis of enterprise obligations and carbon majors for climate justice" Oñati Socio-Legal Series: Climate Justice in the Anthropocene [forthcoming in 2020].