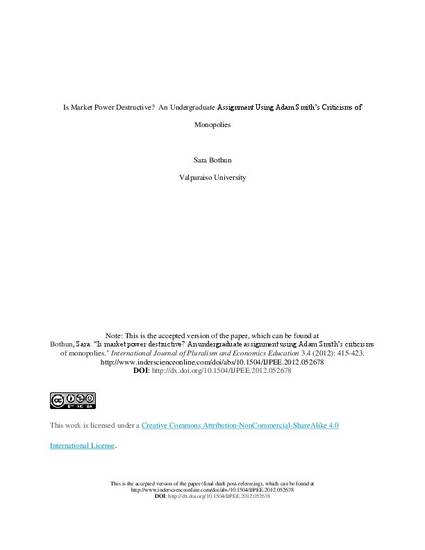 Article
Is Market Power Destructive? An Undergraduate Assignment Using Adam Smith's Criticisms of Monopolies
International Journal of Pluralism and Economics Education (2012)
Abstract
This paper describes an assignment where students evaluate a current industry using Adam Smith's arguments against monopoly power.  Using Smith's arguments, students write a paper describing whether they believe a current industry, such as the US cellular phone carrier industry, suffers from the problems Smith described in
The Wealth of Nations
.  This assignment invites students to take ownership over a current issue while developing a deep understanding of monopolies.  By using Smith's criticisms of monopolies, students will also see that economic "truths" are complicated, even in the classic "laissez-faire" text.
Keywords
teaching methods,
pedagogy,
undergraduate economics,
Adam Smith,
monopolies
Citation Information
Sara Gundersen. "Is Market Power Destructive? An Undergraduate Assignment Using Adam Smith's Criticisms of Monopolies"
International Journal of Pluralism and Economics Education
(2012)
Available at: http://works.bepress.com/sara-gundersen/2/