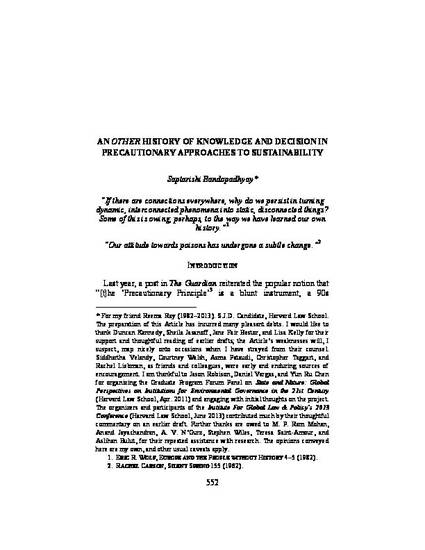 Article
AN OTHER HISTORY OF KNOWLEDGE AND DECISION IN PRECAUTIONARY APPROACHES TO SUSTAINABILITY
Fordham Environmental Law Review (2014)
Abstract
In this paper, I offer an alternative reading of precaution with the hope of recovering the capacity of this ethic to facilitate legal and political decisions. Despite being a popular instrument of international environmental governance, decision-makers continue to understand this principle as reflecting an immemorial and natural instinct for preserving the environment in cases of scientific uncertainty. Such a reading, however, ignores the history and moral basis underlying this principle and thereby renders it obvious, and automatically adaptable to the politics of Sustainable Development. By offering a thicker history of precautionary governance at exemplary moments of ecological crisis I trace the changing legal, and political interpretations of precaution and show that through the 19th and 20th centuries, policymakers developed this unique form of governance in response to crises related to modernization. Lawyers and policymakers who interpret precaution by subjecting it to the politics of scientific verification and the goal of Sustainable Development, ignore this history to our shared detriment because they utilize an inert form of precautionary thinking incapable of facilitating public decisions or investigating how modern risks are generated and distributed. The result is that precaution no longer articulates anything. By contrast, I argue that "precaution" and "sustainability" should be understood as articulations of certain historically-contingent, necessarily political and still-evolving moral relations. Precaution, understood in the context of environmental law, is a cultural strategy that accepts the imperfectness of human knowledge and facilitates decisions that guard against easy anthropocentric assumptions of redundancy in the natural environment. In embracing scientific uncertainty and related insecurities, precautionary thinking identifies with a ethical tradition that facilitates decision-making by prioritizing experiential knowledge and moral choice over a rationalistic valuation of ecological interests.
Keywords
precautionary principle,
sustainable development,
international environmental law,
environmental history,
environmental politics,
international law
Publication Date
Summer July, 2014
Citation Information
Saptarishi Bandopadhyay. "AN OTHER HISTORY OF KNOWLEDGE AND DECISION IN PRECAUTIONARY APPROACHES TO SUSTAINABILITY"
Fordham Environmental Law Review
Vol. 25 (2014)
Available at: http://works.bepress.com/saptarishi_bandopadhyay/3/