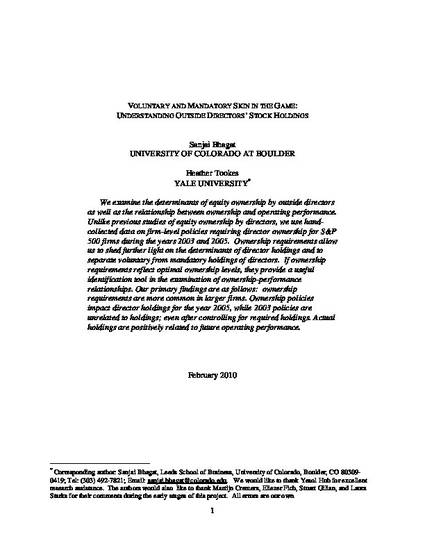 Unpublished Paper
VOLUNTARY AND MANDATORY SKIN IN THE GAME:Understanding Outside Directors' Stock Holdings
ExpressO (2010)
Abstract
We examine the determinants of equity ownership by outside directors as well as the relationship between ownership and operating performance. Unlike previous studies of equity ownership by directors, we use hand-collected data on firm-level policies requiring director ownership for S&P 500 firms during the years 2003 and 2005. Ownership requirements allow us to shed further light on the determinants of director holdings and to separate voluntary from mandatory holdings of directors. If ownership requirements reflect optimal ownership levels, they provide a useful identification tool in the examination of ownership-performance relationships. Our primary findings are as follows: ownership requirements are more common in larger firms. Ownership policies impact director holdings for the year 2005, while 2003 policies are unrelated to holdings; even after controlling for required holdings. Actual holdings are positively related to future operating performance.
Keywords
Corporate governance,
Director ownership
Publication Date
February 1, 2010
Citation Information
Sanjai Bhagat. "VOLUNTARY AND MANDATORY SKIN IN THE GAME:Understanding Outside Directors' Stock Holdings"
ExpressO
(2010)
Available at: http://works.bepress.com/sanjai_bhagat/1/