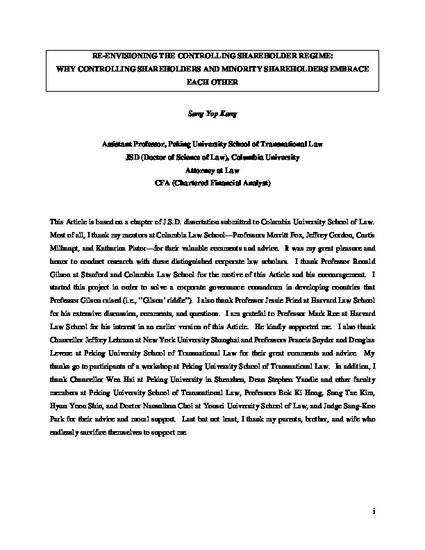 Unpublished Paper
Re-envisioning the Controlling Shareholder Regime: Why Controlling Shareholders and Minority Shareholders Embrace Each Other
ExpressO (2013)
Abstract
According to conventional corporate governance scholarship, controlling shareholder regimes exist in jurisdictions where minority shareholders are not well protected by controlling shareholders' expropriation. However, Professor Ronald Gilson raises a critical point against the conventional view; if laws are inefficient and do not protect investors, as the conventional view explains, why do we observe any minority shareholders at all in such "bad-law" countries? One possible reason is that in response to controlling shareholders' expropriation, minority shareholders discount severely shares that corporations issue. Then, a related question is: if it is true, why do some controlling shareholders in bad-law countries have many minority shareholders despite such severe discount on their shares? The purpose of this Article is to offer potential answers for such conundrums, which still remain unexplored. To this end, this Article approaches in two ways: (1) why does a controlling shareholder issue equity securities even if the cost of equity is much higher than the cost of debt due to severe discount (i.e., "Gilson's riddle")?; (2) why do minority shareholders participate in transactions in a capital market even if they are not well protected by the legal system (i.e., the flip side of "Gilson's riddle")? To answer these questions, this Article proposes that a controlling shareholder and minority shareholders – as a seller and a purchaser – embrace the other party by reciprocal interactions since both can gain economic (or illusive) benefits through transactions in the capital market. Consequently, both parties accept market terms and conditions despite insufficient investor protection (which is disadvantageous to non-controlling investors) and equity discount (which is disadvantageous to a controller). As Professor Merritt Fox restates the points of this Article in a succinct way, "Two people must dance tango, not one." A controlling shareholder and minority shareholders realize that when their interwoven relationship creates symbiosis and a mutual hostage situation, their cooperation is often compelled and strengthened, and economic development ensues. That is why some exemplary bad-law countries have functional capital markets, which is an anomaly from the standpoint of the conventional view.
Keywords
Gilson's Riddle,
Controlling Shareholder,
Minority Shareholders,
Controlling Shareholder Regime,
Corporate Governance,
Product Market-Based Account,
Tunneling,
Controlling Shareholder's Expropriation,
Pecuniary Benefits,
Non-Pecuniary Benefits,
Private Benefits of Control,
Controlling Minority Structure,
Asymmetric Information,
Empire-Building,
Stationary Controller,
Behavioral Finance
Publication Date
July 27, 2013
Citation Information
Sang Yop Kang. "Re-envisioning the Controlling Shareholder Regime: Why Controlling Shareholders and Minority Shareholders Embrace Each Other"
ExpressO
(2013)
Available at: http://works.bepress.com/sangyop_kang/4/