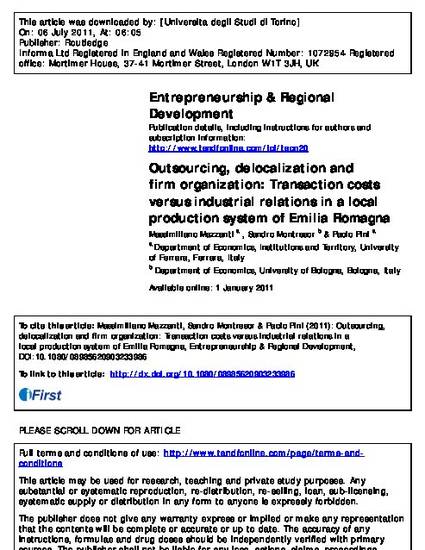 Article
Outsourcing, delocalization and firm organization: transaction costs vs. industrial relations in a local production system of Emilia Romagna
Entrepreneurship & Regional Development (2011)
Abstract
This article investigates the firms' decisions to outsource, taking into account the impact of their embeddedness in a specific regional context on the relative entrepreneurial decision. It focuses on the role of industrial relations, as a factor that could interfere with the entrepreneurs' decision of resorting to market relationships in discovering and exploiting new business opportunities. We study a local production system in Emilia Romagna (Northern Italy), i.e. the province of Reggio Emilia (RE), whose firms are characterized by a district kind of environment and where entrepreneurship develops in the presence of 'thick' industrial relations. The empirical part of the study shows that the role of transaction costs in explaining the outsourcing is blurred, while industrial relations have a stronger explanatory power. Furthermore, it seems that RE firms generally use outsourcing and international delocalization in complementary ways; however, the correlation depends on the activity and the nature of the delocalization channel. Outsourcing strategies appear to be affected by the pattern of socio-economic development in the region where the firms are located. In particular, the entrepreneurial decision to externalize a part of the production process seems to be related to the specific participatory, formal and informal mechanisms involved in regional development.
Citation Information
Sandro Montresor, Massimiliano Mazzanti and Paolo Pini. "Outsourcing, delocalization and firm organization: transaction costs vs. industrial relations in a local production system of Emilia Romagna"
Entrepreneurship & Regional Development
(2011)
Available at: http://works.bepress.com/sandro_montresor/4/