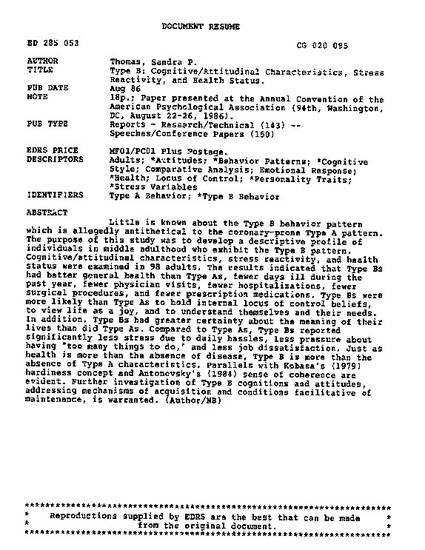 Article
Type B: Congnitive/attitudinal characteristics, stress reactivity, and health status
Resources in Education (1988)
Abstract
Little is known about the Type B behavior pattern which is allegedly antithetical to the coronary-prone Type A pattern. The purpose of this study was to develop a descriptive profile of individuals in middle adulthood who exhibit the Type B pattern. Cognitive/attitudinal characteristics, stress reactivity, and health status were examined in 98 adults. The results indicated that Type Bs had better general health than Type As, fewer days ill during the past year, fewer physician visits, fewer hospitalizations, fewer surgical procedures, and fewer prescription medications. Type Bs were more likely than Type As to hold internal locus of control beliefs, to view life as a joy, and to understand themselves and their needs. In addition, Type Bs had greater certainty about the meaning of their lives than did Type As. Compared to Type As, Type Bs reported significantly less stress due to daily hassles, less pressure about having "too many things to do," and less job dissatisfaction. Just as health is more than the absence of disease, Type B is more than the absence of Type A characteristics. Parallels with Kobasa's (1979) hardiness concept and Antonovsky's (1984) sense of coherence are evident. Further investigation of Type B cognitions and attitudes, addressing mechanisms of acquisition and conditions facilitative of maintenance, is warranted.
Keywords
adults,
attitudes,
behavior patterns,
cognitive style,
comparative analysis,
emotional response,
personality traits,
stress variables
Citation Information
Thomas, S.P. (1988, January). Type B: Cognitive/attitudinal characteristics, stress reactivity, and health status.
Resources in Education
. (ERIC Document Reproduction Service No. ED 285 053).