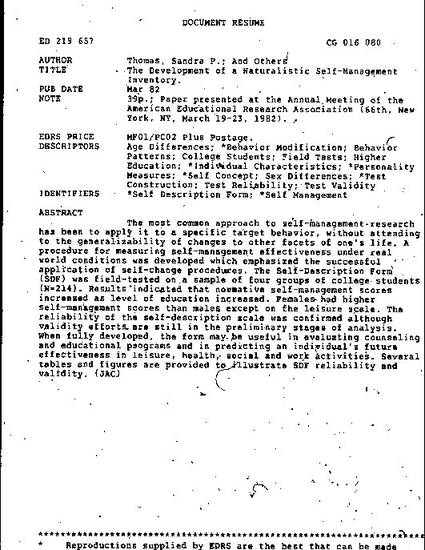 Article
The Development of a Naturalistic Self-Management Inventory
Resources in Education (1983)
Abstract
The most common approach to self-management research has been to apply it to a specific target behavior, without attending to the generalizability of changes to other facets of one's life. A procedure for measuring self-management effectiveness under real world conditions was developed which emphasized the successful application of self-change procedures. The Self-Description Form (SDF) was field-tested on a sample of four groups of college students (N=214). Results indicated that normative self-management scores increased as level of education increased. Females had higher self-management scores than males except on the leisure scale. The reliability of the self-description scale was confirmed although validity efforts are still in the preliminary stages of analysis. When fully developed, the form may be useful in evaluating counseling and educational programs and in predicting an individual's future effectiveness in leisure, health, social and work activities. Several tables and figures are provided to illustrate SDF reliability and validity.
Keywords
age differences,
behavior modifications,
behavior patterns,
college students,
higher education,
personality measures
Citation Information
Thomas, S.P., Olsen, D., & Williams, R.L. (1983, January). The development of a naturalistic self-management inventory.
Resources in Education
. (ERIC Document Reproduction Service No. ED 219 657).