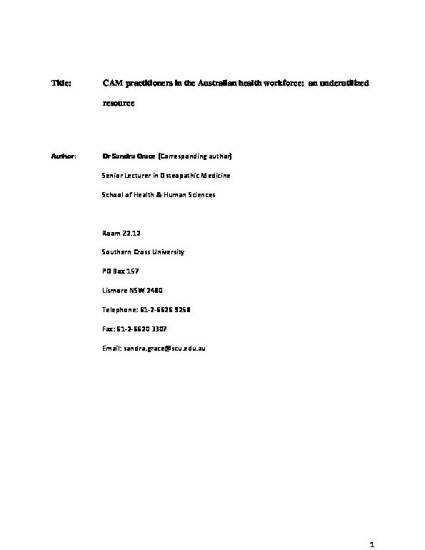 Article
CAM practitioners in the Australian health workforce: an underutilized resource
BMC Complementary and Alternative Medicine
Publication Date
1-1-2012
Peer Reviewed
Peer-Reviewed
Abstract
Background
CAM practitioners are a valuable but underutilizes resource in Australian health care. Despite increasing public support for complementary and alternative medicine (CAM) little is known about the CAM workforce. Apart from the registered professions of chiropractic, osteopathy and Chinese medicine, accurate information about the number of CAM practitioners in the workforce has been difficult to obtain. It appears that many non-registered CAM practitioners, although highly qualified, are not working to their full capacity. Discussion
Increasing public endorsement of CAM stands in contrast to the negative attitude toward the CAM workforce by some members of the medical and other health professions and by government policy makers. The marginalisation of the CAM workforce is evident in prejudicial attitudes held by some members of the medical and other health professions and its exclusion from government policy making. Inconsistent educational standards has meant that non-registered CAM practitioners, including highly qualified and competent ones, are frequently overlooked. Legitimising their contribution to the health workforce could alleviate workforce shortages and provide opportunities for redesigned job roles and new multidisciplinary teams. Priorities for better utilisation of the CAM workforce include establishing a guaranteed minimum education standard for more CAM occupation groups through national registration, providing interprofessional education that includes CAM practitioners, developing courses to upgrade CAM practitioners' professional skills in areas of indentified need, and increasing support for CAM research. Summary
Marginalisation of the CAM workforce has disadvantaged those qualified and competent CAM practitioners who practise evidence-informed medicine on the basis of many years of university training. Legitimising and expanding the important contribution of CAM practitioners could alleviate projected health workforce shortages, particularly for the prevention and management of chronic health conditions and for health promotion.
Citation Information
Postprint of: Grace, S 2012, 'CAM practitioners in the Australian health workforce: an underutilized resource', BMC Complementary and Alternative Medicine, vol. 12, pp. 205-229.