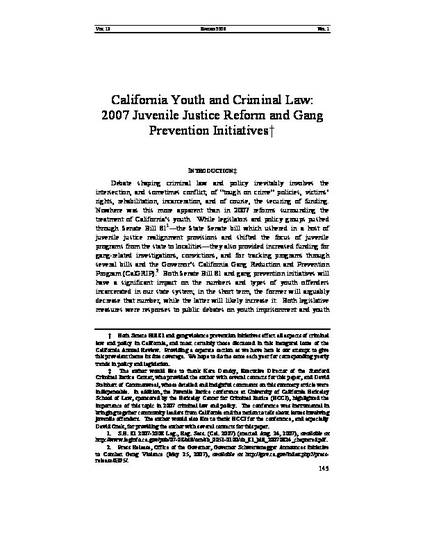 Article
California Youth and Criminal Law: 2007 Juvenile Justice Reform and Gang Prevention Initiatives
Berkeley Journal of Criminal Law (2008)
Abstract
Debate shaping criminal law and policy inevitably involves the intersection, and sometimes conflict, of "tough on crime" policies, victims' rights, rehabilitation, incarceration, and of course, the securing of funding. Nowhere was this more apparent than in 2007 reforms surrounding the treatment of California's youth. While legislators and policy groups pushed through Senate Bill 81 – the State Senate bill which ushered in a host of juvenile justice realignment provisions and shifted the focus of juvenile programs from the state to localities – they also provided increased funding for gang-related investigations, convictions, and for tracking programs through several bills and the Governor's California Gang Reduction and Prevention Program (CalGRIP). Both Senate Bill 81 and gang prevention initiatives will have a significant impact on the numbers and types of youth offenders incarcerated in our state system; in the short term, the former will arguably decrease that number, while the latter will likely increase it. Both legislative measures were responses to public debates on youth imprisonment and youth crime. Both have the same shared long term goal of decreasing the number of youth offenders in our state through rehabilitation and other programs. Their means, however, of achieving those goals differ greatly: while Senate Bill 81 attempts to decentralize the juvenile justice system and direct youth offenders towards localities, CalGRIP emphasizes centralization.
This article examines youth and criminal law, one of the most talked about issues of 2007 among criminal law academics and policy makers in California. The article begins with a discussion of Senate Bill 81: first, the system that preceded it; second, the provisions of the bill; and third, its predicted impact on California's juvenile justice system. The latter portion of the article discusses trends in gang prevention and reforms made in this area in 2007, including a discussion of bills and other reforms passed in 2007. The two sections are unified not only by the segment of the population impacted – California's youth – but also by the impending ballot proposition known as the "Safe Neighborhoods Initiative," or the Runner Initiative, which will likely appear on California's ballot in the 2008 elections. If passed, the Runner Initiative could impact the handling of juvenile offenders and gang-related offenses in this state.
Keywords
juvenile justice,
California juvenile justice system,
California Youth Authority,
Division of Juvenile Justice,
Senate Bill 81,
Safe Neighborhoods Act,
Runner Initiative,
gang prevention,
civil injunctions,
gang injunctions
Publication Date
Spring 2008
Citation Information
Sandhya Ramadas. "California Youth and Criminal Law: 2007 Juvenile Justice Reform and Gang Prevention Initiatives"
Berkeley Journal of Criminal Law
Vol. 13 Iss. 1 (2008)
Available at: http://works.bepress.com/sandhya_ramadas/2/