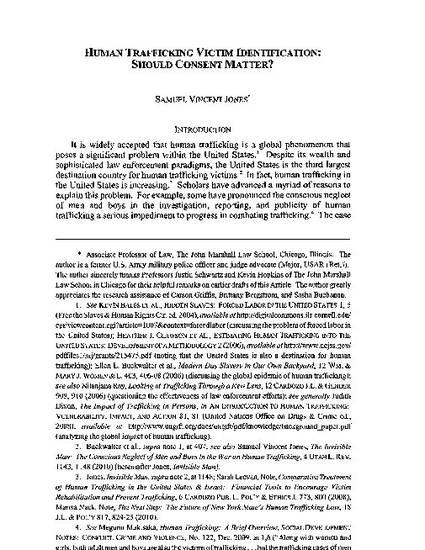 Article
Human Trafficking Victim Identification: Should Consent Matter, 45 Ind. L. Rev. 483 (2012)
UIC Law Open Access Faculty Scholarship
Publication Date
1-1-2012
Abstract
It is widely accepted that human trafficking is a global phenomenon that poses a significant problem within the United States. Despite its wealth and sophisticated law enforcement paradigms, the United States is the third largest destination country for human trafficking victims. In fact, human trafficking in the United States is increasing. Scholars have advanced a myriad of reasons to explain this problem. For example, some have pronounced the conscious neglect of men and boys in the investigation, reporting, and publicity of human trafficking a serious impediment to progress in combating trafficking. The ease with which corporations avoid prosecution under the Trafficking Victims Protection Act of 2000 (TVPA) has been cited as a leading obstacle to thwarting trafficking. The U.S. government's disproportionate focus on prosecuting poor and powerless individuals has also ignited concern. In addition, the dismal enforcement results reveal that the neglect of ethnic minority victims has contributed to the proliferation of trafficking schemes. Finally, even the disproportionate focus on sex trafficking and the manner in which feminist ideology negatively influences anti-trafficking measures has been explored to a significant degree.
By isolating the normative point at which the shift from consenting participant to human trafficking victim occurs, this Article challenges existing approaches to identifying human trafficking victims. It demonstrates that consent may, in some cases, expire before the onset of fraud, force, or coercion, particularly in the face of unpalatable alternatives. Nevertheless, this Article will illustrate that consent may be viable despite the absence of palatable alternatives. In so doing, this Article questions whether individuals can be neatly bifurcated into two distinct categories-migrant smuggling and human trafficking-and instead points to at least five classifications that arguably fit under the ambit of migrant smuggling, human trafficking, or both, depending on one's theory of consent. Finally, this Article examines existing autonomies between migrant smuggling and human trafficking and questions whether the role of consent in each case is truly antithetical.
In short, this Article attempts to take a first step in fashioning a decision-making paradigm for resolving the consent question. This paradigm incorporates the moral imperative to respect human dignity and permit individuals to determine their own direction, without compromising the undeniable empiricism of commercial exploitation and victimization. Part I distinguishes between human trafficking and migrant smuggling and evaluates the jurisprudential basis for five classifications of individuals within the human trafficking-smuggled migrant spectrum. In so doing, it highlights how the desire to migrate acts as a catalyst and sociological contributor to drive demand for human trafficking and migrant smuggling, and ultimately encourages individuals to consent to high-risk exchanges. Giving particular attention to historical accounts, Part I also evaluates the manner in which voluntariness and coercive agents inform ideas about victimization and criminality and ultimately influence anti-trafficking law enforcement efforts. Part II explores the conceptual basis for deciding the voluntary nature and dispositive treatment of consent in the victim identification process and introduces the two dominant, but competing, jurisprudential approaches to defining and respecting consent. This Article concludes by positing that although the two dominant approaches to defining and respecting consent both center largely on ideas about human dignity and moral culpability, only one approach operates as a legitimate safeguard for respecting each when evaluating consent.
Citation Information
Samuel Vincent Jones, Human Trafficking Victim Identification: Should Consent Matter, 45 Ind. L. Rev. 483 (2012).