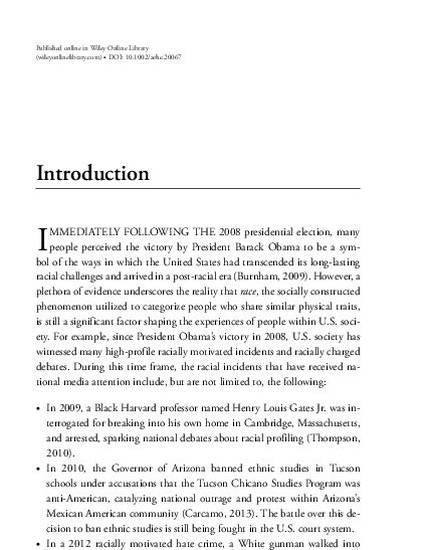 Book
Racism and Racial Equity in Higher Education
(2015)
Abstract
This monograph aims to help readers recognize and understand how racism continues to permeate higher education. By centralizing research on the role of racism in higher education, this volume attempts to advance the conversation on what it means to work towards racial equity in higher education in the 21st century. The monograph provides a synthesis of theory, research, and evidence that illuminate the ways in which racism shapes higher education systems and the experiences of people who navigate and function within them. The authors posit that higher education leaders must move beyond vague notions of diversity, multiculturalism, or equality in mission statements and recruiting materials and do the difficult work of pursuing systemic transformation and creating more inclusive environments in which racially diverse populations can thrive. Such work, in turn, necessitates a deep understanding of the historic and contemporary role of racism in shaping postsecondary access and opportunity.
Publication Date
Winter December 1, 2015
Citation Information
Museus, S. D., Ledesma, M. C. & Parker, T. L. (2015). Racism and Racial Equity in Higher Education. ASHE Higher Education Report, 42, 1–112.