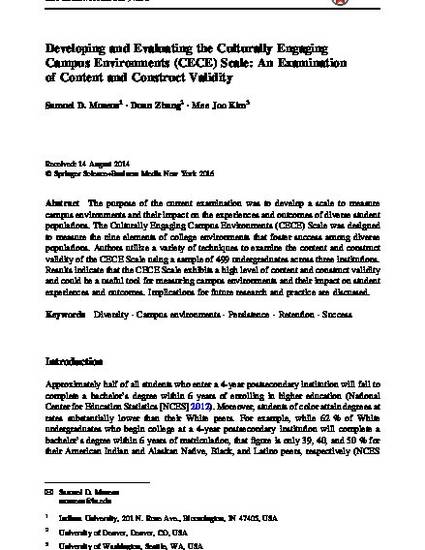 Article
Developing and Evaluating the Culturally Engaging Campus Environments (CECE) Scale: An Examination of Content and Construct Validity
Research in Higher Education (2016)
Abstract
The purpose of the current examination was to develop a scale to measure
campus environments and their impact on the experiences and outcomes of diverse student
populations. The Culturally Engaging Campus Environments (CECE) Scale was designed
to measure the nine elements of college environments that foster success among diverse
populations. Authors utilize a variety of techniques to examine the content and construct
validity of the CECE Scale using a sample of 499 undergraduates across three institutions.
Results indicate that the CECE Scale exhibits a high level of content and construct validity
and could be a useful tool for measuring campus environments and their impact on student
experiences and outcomes. Implications for future research and practice are discussed.
Keywords
CECE,
campus environments,
campus climate,
diversity,
equity,
inclusion,
race,
culture
Publication Date
Winter January 1, 2016
Citation Information
Museus, S. D., Zhang, D., & Kim, M. J. (2016). Developing and evaluating the Culturally Engaging Campus Environments (CECE) Scale: An examination of content and construct validity. Manuscript accepted for publication in Research in Higher Education.