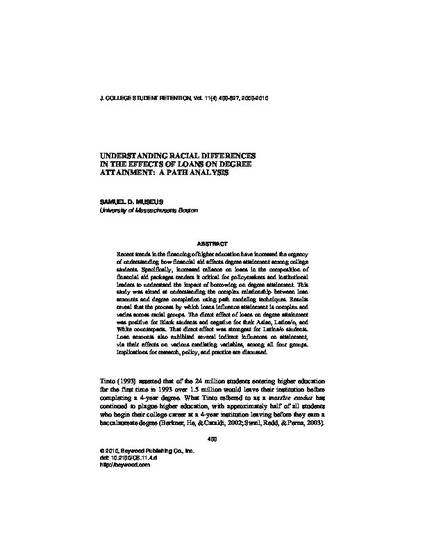 Article
Understanding racial/ethnic differences in the direct and indirect effects of loans on degree completion
Journal of College Student Retention: Theory, Research, and Practice (2010)
Abstract
Recent trends in the financing of higher education have increased the urgency of understanding how financial aid affects degree attainment among college students. Specifically, increased reliance on loans in the composition of financial aid packages renders it critical for policymakers and institutional leaders to understand the impact of borrowing on degree attainment. This study was aimed at understanding the complex relationship between loan amounts and degree completion using path modeling techniques. Results reveal that the process by which loans influence attainment is complex and varies across racial groups. The direct effect of loans on degree attainment was positive for Black students and negative for their Asian, Latina/o, and White counterparts. That direct effect was strongest for Latina/o students. Loan amounts also exhibited several indirect influences on attainment, via their effects on various mediating variables, among all four groups. Implications for research, policy, and practice are discussed.
Citation Information
Museus, S. D. (2010). Understanding racial/ethnic differences in the direct and indirect effects of loans on degree completion.
Journal of College Student Retention: Theory, Research, and Practice, 11
(4), 499-527.