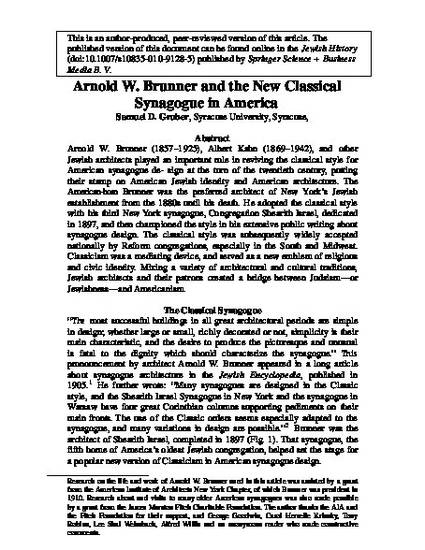 Article
Arnold W. Brunner and the New Classical Synagogue in America
Jewish History (2011)
Abstract
Arnold W. Brunner (1857–1925), Albert Kahn (1869–1942), and other Jewish architects played an important role in reviving the classical style for American synagogue design at the turn of the twentieth century, putting their stamp on American Jewish identity and American architecture. The American-born Brunner was the preferred architect of New York's Jewish establishment from the 1880s until his death. He adopted the classical style with his third New York synagogue, Congregation Shearith Israel, dedicated in 1897, and then championed the style in his extensive public writing about synagogue design. The classical style was subsequently widely accepted nationally by Reform congregations, especially in the South and Midwest. Classicism was a mediating device, and served as a new emblem of religious and civic identity. Mixing a variety of architectural and cultural traditions, Jewish architects and their patrons created a bridge between Judaism—or Jewishness—and Americanism.
Keywords
synagogues,
architecture,
Jewish,
judaica,
Brunner,
Syracuse
Citation Information
Samuel D. Gruber. "Arnold W. Brunner and the New Classical Synagogue in America"
Jewish History
Vol. 25 Iss. 1 (2011)
Available at: http://works.bepress.com/samuel_gruber/52/