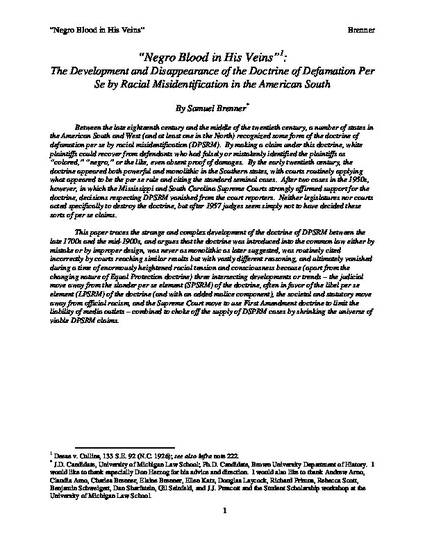 Unpublished Paper
Negro Blood in His Veins: The Development and Disappearance of the Doctrine of Defamation Per Se by Racial Misidentification in the American South
ExpressO (2009)
Abstract
Between the late eighteenth century and the middle of the twentieth century, a number of states in the American South and West (and at least one in the North) recognized some form of the doctrine of defamation per se by racial misidentification (DPSRM). By making a claim under this doctrine, white plaintiffs could recover from defendants who had falsely or mistakenly identified the plaintiffs as "colored," "negro," or the like, even absent proof of damages. By the early twentieth century, the doctrine appeared both powerful and monolithic in the Southern states, with courts routinely applying what appeared to be the per se rule and citing the standard seminal cases. After two cases in the 1950s, however, in which the Mississippi and South Carolina Supreme Courts strongly affirmed support for the doctrine, decisions respecting DPSRM vanished from the court reporters. Neither legislatures nor courts acted specifically to destroy the doctrine, but after 1957 judges seem simply not to have decided these sorts of per se claims.
This paper traces the strange and complex development of the doctrine of DPSRM between the late 1700s and the mid-1900s, and argues that the doctrine was introduced into the common law either by mistake or by improper design, was never as monolithic as later suggested, was routinely cited incorrectly by courts reaching similar results but with vastly different reasoning, and ultimately vanished during a time of enormously heightened racial tension and consciousness because (apart from the changing nature of Equal Protection doctrine) three intersecting developments or trends – the judicial move away from the slander per se element (SPSRM) of the doctrine, often in favor of the libel per se element (LPSRM) of the doctrine (and with an added malice component), the societal and statutory move away from official racism, and the Supreme Court move to use First Amendment doctrine to limit the liability of media outlets – combined to choke off the supply of DSPRM cases by shrinking the universe of viable DPSRM claims.
Keywords
civil rights,
African American,
history,
defamation per se,
racial misidentification
Publication Date
February 4, 2009
Citation Information
Samuel L Brenner. "Negro Blood in His Veins: The Development and Disappearance of the Doctrine of Defamation Per Se by Racial Misidentification in the American South"
ExpressO
(2009)
Available at: http://works.bepress.com/samuel_brenner/1/