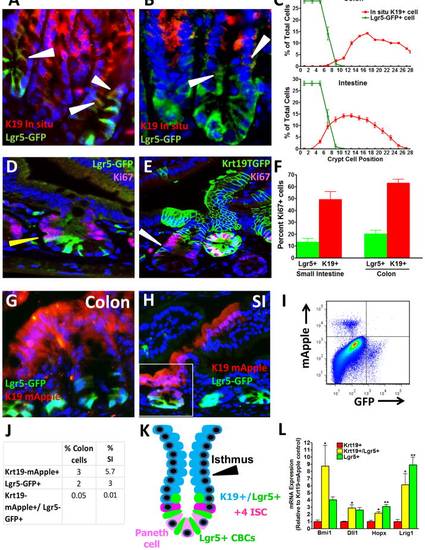 Article
Krt19(+)/Lgr5(−) cells are radioresistant cancer initiating stem cells in the colon and intestine
Cell Stem Cell (2015)
Abstract
The colonic and intestinal epithelium are renewed every 3 days. In the intestine there are at least two principal stem cell pools. The first contains rapid cycling crypt based columnar (CBC) Lgr5+ cells, while the second is comprised of slower cycling Bmi1-expressing cells at the +4 position above the crypt base. In the colon, however, the identification of Lgr5-negative stem cell pools has proven more challenging. Here, we demonstrate that the intermediate filament, keratin-19 (Krt19), marks long-lived, radiation resistant cells above the crypt base that generate Lgr5+ CBCs in the colon and intestine. In colorectal cancer models, Krt19+ cancer initiating cells are also radioresistant while Lgr5+ stem cells are radiosensitive. Moreover, Lgr5+ stem cells are dispensable in both the normal and neoplastic colonic epithelium, as ablation of Lgr5+ stem cells results in their regeneration from Krt19 expressing cells. Thus, Krt19+ stem cells are a discrete target relevant for cancer therapy.
Keywords
Krt19,
intestine,
colon,
stem cells,
cancer
Citation Information
Samuel Asfaha, Y Hayakawa, A Muley, S Stokes, et al.. "Krt19(+)/Lgr5(−) cells are radioresistant cancer initiating stem cells in the colon and intestine"
Cell Stem Cell
(2015)
Available at: http://works.bepress.com/samuel-asfaha/2/