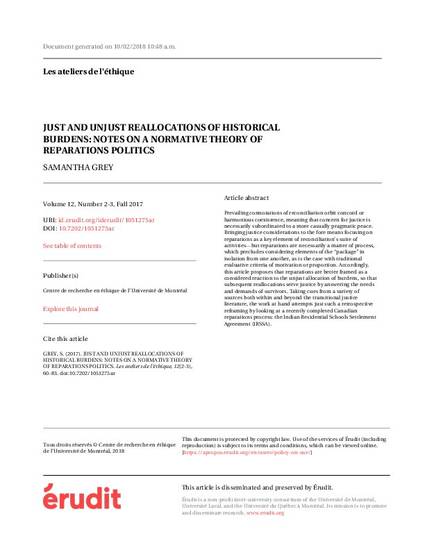 Article
Just and Unjust Reallocations of Historical Burdens: Notes on a Normative Theory of Reparations Politics
Les Ateliers de l'éthique/The Ethics Forum (2018)
Abstract
Prevailing connotations of reconciliation orbit concord or harmonious coexistence, meaning that concern for
justice
is necessarily subordinated to a more casually pragmatic
peace
. Bringing justice considerations to the fore means focusing on reparations as a key element of reconciliation's suite of activities – but reparations are necessarily a matter of process, which precludes considering elements of the 'package' in isolation from one another, as is the case with traditional evaluative criteria of motivation or proportion. Accordingly, this article proposes that reparations are better framed as a considered reaction to the unjust allocation of burdens, so that subsequent reallocations serve justice by answering the needs and demands of survivors. Taking cues from a variety of sources both within and beyond the transitional justice literature, the work at hand attempts just such a retrospective reframing by looking at a recently completed Canadian reparations process: the Indian Residential Schools Settlement Agreement (IRSSA).
Keywords
historical justice,
transitional justce,
truth and reconciliation commissions,
reparations,
Indigenous reconciliation,
reconciliation
Publication Date
May 4, 2018
Citation Information
Grey, Sam. "Just and Unjust Reallocations of Historical Burdens: Notes on a Normative Theory of Reparations Politics." Les ateliers de l'éthique/The Ethics Forum vol. 12, issue 2-3: pp. 60-83.