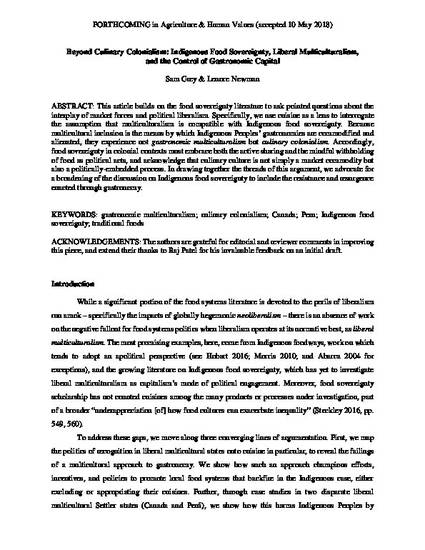 Article
Beyond Culinary Colonialism: Indigenous Food Sovereignty, Liberal Multiculturalism, and the Control of Gastronomic Capital
Agriculture and Human Values (2018)
Abstract
This article builds on the food sovereignty literature to ask pointed questions about the interplay of market forces and political liberalism. Specifically, we use cuisine as a lens to interrogate the assumption that multiculturalism is compatible with Indigenous food sovereignty. Because multicultural inclusion is the means by which Indigenous Peoples' gastronomies are commodified and alienated, they experience not
gastronomic multiculturalism
but
culinary colonialism
. Accordingly, food sovereignty in colonial contexts must embrace both the active sharing and the mindful withholding of food as political acts, and acknowledge that culinary culture is not simply a market commodity but also a politically-embedded process. In drawing together the threads of this argument, we advocate for a broadening of the discussion on Indigenous food sovereignty to include the resistance and resurgence enacted through gastronomy.
Keywords
gastronomic multiculturalism,
culinary colonialism,
Canada,
Peru,
Indigenous food sovereignty,
traditional foods
Publication Date
May 10, 2018
Citation Information
Grey, Sam & Lenore Newman. "Beyond Culinary Colonialism: Indigenous Food Sovereignty, Liberal Multiculturalism, and the Control of Gastronomic Capital." Accepted at Agriculture & Human Values (forthcoming).