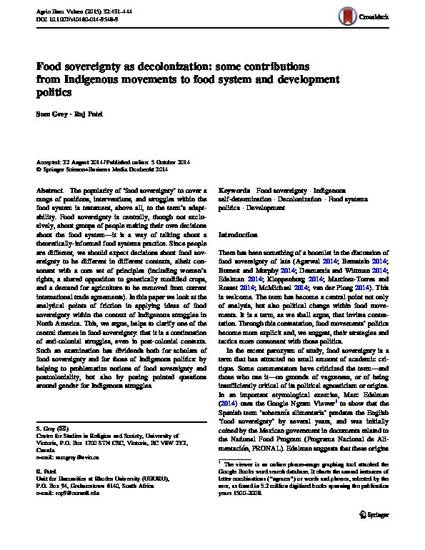 Article
Food Sovereignty as Decolonization: Some Contributions from Indigenous Movements to Food System and Development Politics
Agriculture & Human Values (2015)
Abstract
The popularity of 'food sovereignty' to cover a range of positions, interventions, and struggles within the food system is testament, above all, to the term's adaptability. Food sovereignty is centrally, though not exclusively, about groups of people making their own decisions about the food system—it is a way of talking about a theoretically-informed food systems practice. Since people are different, we should expect decisions about food sovereignty to be different in different contexts, albeit consonant with a core set of principles (including women's rights, a shared opposition to genetically modified crops, and a demand for agriculture to be removed from current international trade agreements). In this paper we look at the analytical points of friction in applying ideas of food sovereignty within the context of Indigenous struggles in North America. This, we argue, helps to clarify one of the central themes in food sovereignty: that it is a continuation of anti-colonial struggles, even in post-colonial contexts. Such an examination has dividends both for scholars of food sovereignty and for those of Indigenous politics: by helping to problematize notions of food sovereignty and postcoloniality, but also by posing pointed questions around gender for Indigenous struggles.
Keywords
food sovereignty,
decolonization,
Indigenous self-determination,
food systems politics,
development
Citation Information
Grey, Sam & Raj Patel. "Food Sovereignty as Decolonization: Some Contributions from Indigenous Movements to Food System and Development Politics." Agriculture & Human Values vol. 32, issue 3 (2015): pp. 431-444.