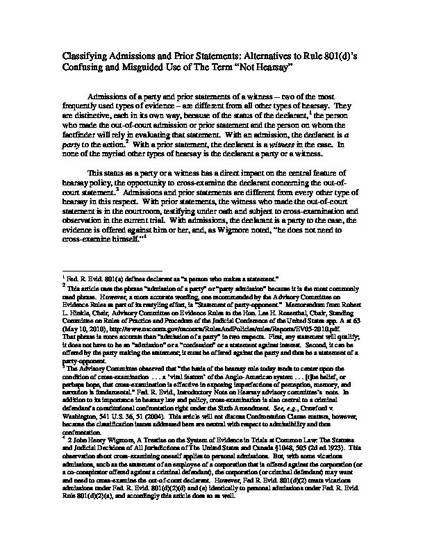 Unpublished Paper
Classifying Admissions and Prior Statements: Alternatives to Rule 801(d)'s Confusing and Misguided Use of The Term "Not Hearsay"
ExpressO (2010)
Abstract
This article examines the treatment of admissions and prior statements in hearsay law generally and in Rule 801(d) of the Federal Rules of Evidence in particular. Nearly everyone agrees that Rule 801(d)'s classification of such statements as "not hearsay" is "awkward" and "wrong" (even "Orwellian") and violates the norms of clarity and consistency expected of good drafting and the standards of the Guidelines for Drafting and Editing the Federal Rules. Yet the rule was drafted by a distinguished Advisory Committee, enacted by Congress, adopted by 34 states and has survived for over 35 years. How did this happen? What is the best way to change it?
The article explores the intellectual backstory of Rule 801(d). It then examines in detail the Rule's drafting and describes the Reporter's reasons for the drafting choices, presenting, for the first time in the legal literature, the internal records of the Advisory Committee and especially Memorandum No. 19 on Hearsay that provides those reasons in Reporter Edward Cleary's own words. The article then criticizes those reasons and finds that they provide an inadequate justification for the "not hearsay" classification.
The article finds in the innovative approaches of several state evidence codes the inspiration for a proposed amendment to Rule 801(d) based on a "four categories" approach, one that creates a separate hearsay exception for admissions and for prior statements. It concludes by discussing the amendment process for the Federal Rules of Evidence and the factors involved in determining whether an amendment using the article's suggested approach will be adopted.
Publication Date
August 23, 2010
Citation Information
Sam Stonefield. "Classifying Admissions and Prior Statements: Alternatives to Rule 801(d)'s Confusing and Misguided Use of The Term "Not Hearsay""
ExpressO
(2010)
Available at: http://works.bepress.com/sam_stonefield/3/