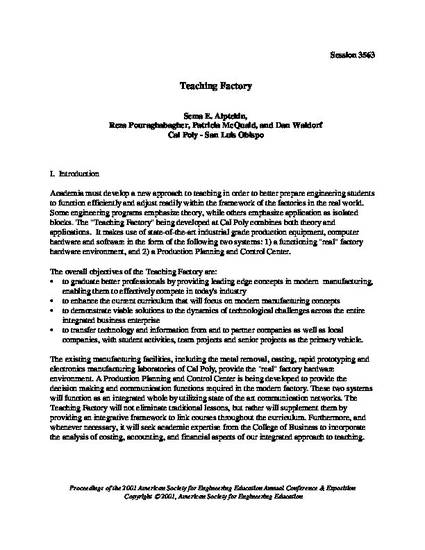 Other
Teaching Factory
Proceedings of the 2001 American Society for Engineering Education Annual Conference & Exposition
Publication Date
6-1-2001
Abstract
Academia must develop a new approach to teaching in order to better prepare engineering students to function efficiently and adjust readily within the framework of the factories in the real world. Some engineering programs emphasize theory, while others emphasize application as isolated blocks. The "Teaching Factory" being developed at Cal Poly combines both theory and applications. It makes use of state-of-the-art industrial grade production equipment, computer hardware and software in the form of the following two systems: 1) a functioning "real" factory hardware environment, and 2) a Production Planning and Control Center.
Citation Information
Sema E. Alptekin, Reza Pouraghabagher, Patricia McQuaid and Daniel Waldorf. "Teaching Factory"
Proceedings of the 2001 American Society for Engineering Education Annual Conference & Exposition
(2001)
Available at: http://works.bepress.com/salpteki/15/