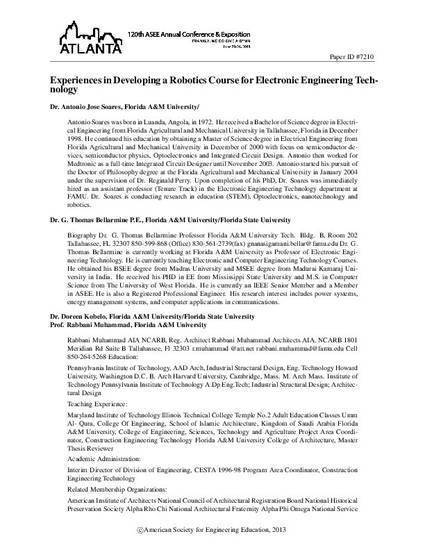 Presentation
Experiences in Developing a Robotics Course for Electronic Engineering Technology
120th ASEE Annual Conference & Exposition (2013)
Abstract
Developing a robotics course for an engineering technology program has proven to be a challenge. Most textbooks and/or robotic programs are designed for engineering programs. As such, there is a great deal of mathematical modeling and analysis which is not fitting for a technology curriculum. At the other end of the spectrum, there are a myriad of low level robotics based curriculum such as the LEGO or the Parallax Boe-bot robot platforms. These are normally used in K-12 educational and summer programs. This paper presents the process of developing a suitable robotics course for electronic engineering technology program (EET). We first present the challenges encountered when developing the course content to suit the engineering technology curriculum. The curriculum content for both classroom lecture and laboratory sections are then discussed. A discussion of competition-based projects designed to enhance and gauge the overall understanding of the course material is then presented. Finally, initial efforts to make the course an interdisciplinary course are discussed. 
Keywords
Robotics course,
Electronic engineering technology,
Engineering,
Robotics
Publication Date
June 23, 2013
Citation Information
Antonio J. Soares, G. T. Bellarmine, Doreen Kobelo, Rabbani Muhammad, et al.. "Experiences in Developing a Robotics Course for Electronic Engineering Technology"
120th ASEE Annual Conference & Exposition
(2013)
source:https://www.asee.org/public/conferences/20/papers/7210/view
Available at: http://works.bepress.com/salman-siddiqui/3/